Mali tribal chief calls for peace on homecoming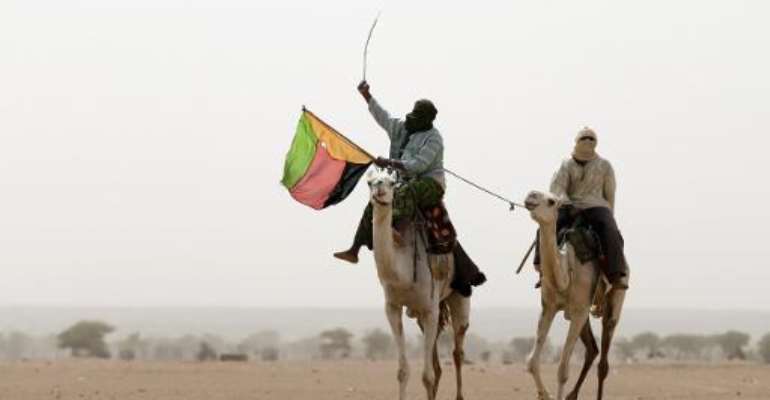 Bamako (AFP) - An influential Mali tribal chief returned to his homeland on Saturday after two months in hospital in Morocco, calling for a decisive resolution to the deeply-divided west African nation's fragile peace process.
Intalla Ag Attaher's tribes of the northern Ifoghas mountains were a key partner in the National Movement for the Liberation of Azawad (MNLA), an armed collective of ethnic Tuaregs which rose up against the state in 2012.
"On his arrival, the patriarch (called on) all the sons of Mali to make lasting peace, so that the people of the north, of the south, can work for the development of the country," an aide in his home town of Kidal told AFP.
Attaher is thought to be more than 90 years old and is revered and respected by Tuaregs throughout the Kidal region, where almost no move, political or paramilitary, can be made without his consent.
Greeted on his return to Kidal by hundreds of cheering wellwishers, Attaher appeared in "much better shape", according to witnesses, than when he had left for Rabat in February, on the invitation of the King of Morocco, Mohammed VI.
"Yes, after his triumphant return... Intalla Ag Attaher appealed for peace in northern Mali, in southern Mali, across Mali," said Mamoud Diakite, an official in the governor's office.
Diakite said the tribal chief urged the Moroccan king to "continue its efforts to restore peace in northern Mali".
Mohammed VI visited Mali in February to support its peace process, with Rabat aiming to wrest the diplomatic initiative from its more dominant regional rival Algeria.
The visit took place with preliminary meetings under way in Bamako ahead of peace negotiations between the government and armed insurgents in the north, including the MNLA.
Mali was thrown into chaos in 2012 when the MNLA launched an offensive in the northern desert helped by Islamist militants linked to Al-Qaeda who then cast aside the Tuareg rebels and took the region for themselves.
The Islamists were driven out after nine months by a French-led military intervention launched in January 2013. But they are regrouping in the desert and remain an ever-present threat to security.
The operation was backed by Morocco which, despite having no border with Mali, counts Islamist militants throughout Africa's Sahel and Maghreb regions as a high priority security threat.
With Keita's blessing, Mohammed VI received MNLA chief Bilal Ag Acherif in January, encouraging him back to the table with the Malian government after the rebels had walked out on UN-sponsored talks in Algiers.
Attaher shocked fellow Tuareg when he declared in a statement that he was withdrawing from the MNLA.