German Chancellor invites President Mahama to Germany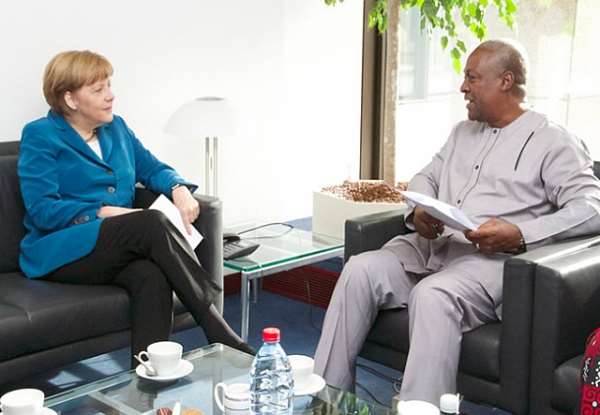 Prez Mahama & Angela Merkel
Accra, April 3, GNA German Chancellor Angela Merkel on Thursday extended an invitation to President John Dramani Mahama to undertake an official visit to her country.
The invitation came during bilateral discussions between the two leaders, on the margins of the EU-Africa Summit, which ended on Thursday.
President Mahama thanked the German Chancellor for the invitation and expressed much appreciation for her countrys invaluable contributions to Ghanas development, through various forms of economic and technical assistance.
The President, in his capacity as the new Chair of the Economic Community of West African States, (ECOWAS) commended Germany for its continued support and contribution to peacekeeping in Africa, including financial support for the construction and running of the Kofi Annan International Peacekeeping Training Centre.
Ms Merkel, who described Ghana as a success story in her growing economy, pledged her country's support to address the country's short-term fiscal challenges.
The two leaders also exchanged views on negotiations on the Economic Partnership Agreement that is being worked out between the European Union and the Economic Community of West African States, with President Mahama sharing details about the ECOWAS Technical Committee comprising the ECOWAS Chief negotiators and representatives of Ghana, Nigeria, Cote dIvoire, and Senegal.
Other issues discussed are the situation in Mali and the upcoming elections in Guinea-Bissau.
GNA