Murderer confesses after arrest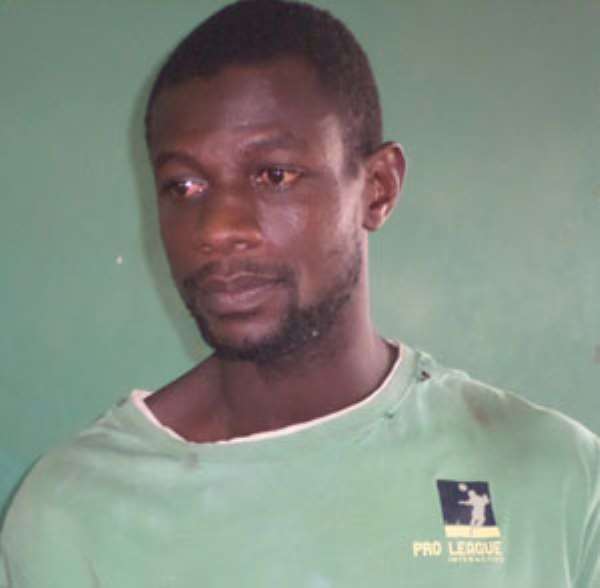 Victor Amewugah,
Victor Amewugah, Sunyani, March 30, GNA A man suspected of murdering two people at separate locations has confessed to the crime after his arrest by the Police.
Victor Amewugah, 27, a chainsaw operator, told newsmen in Sunyani that he killed his victims and took their taxi cabs away because of greed and the desire to acquire wealth and material possession instantly.
Crime is not good because no matter how one committed it under cover, there is no secret location for it, one would be exposed, Amewugah, a native of Akim-Abenase in the Eastern Region confessed.
The murderer made this confession at the Brong-Ahafo Regional Police headquarters where he had been brought for charges to be preferred against him and also to tell the world of his regret for committing the two heinous crimes.
Amewugah, married with one child, advised those involved in armed robbery and car snatching activities, as well as those with the intention to do same, as a means of livelihood, to change because the end result is unbearable.
I could not sleep because the ghost of a second person I murdered around Akim Oda was haunting me, hence I informed my friend of the nightmare, who alerted the Oda Police and I was arrested.
Briefing the media later, Assistant Superintendent of Police (ASP) Mr Christopher Tawiah, Regional Police Public Relations Officer said on June 7, 2013, one Isaac Owusu, aged 29 was murdered by an unknown person at Derma in the Tano South District.
ASP Tawiah said the murderer bolted with a taxi cab, a Kia Rio with registration number AS 646 13, which belonged to the deceased, adding that, a hunt by the police to arrest the suspect proved futile.
He said on June 8, 2013, the Police relayed information across the country, whilst preliminary investigation revealed that Amewugah was driving the deceaseds taxi cab in the Eastern Region.
ASP Tawiah said on March 8, 2014, Amewugah was arrested from his hide out by the AKim Oda Police.
ASP Tawiah said the suspect in his caution statement, confessed to killing two Taxi drivers, one at Derma and the other in the Eastern Region.
He said the murderer was remanded by a Law Court at Oda to reappear before it but would also face fresh charges in Brong-Ahafo, ASP Tawiah added.
GNA