Vodafone Ghana Foundation holds HealthFest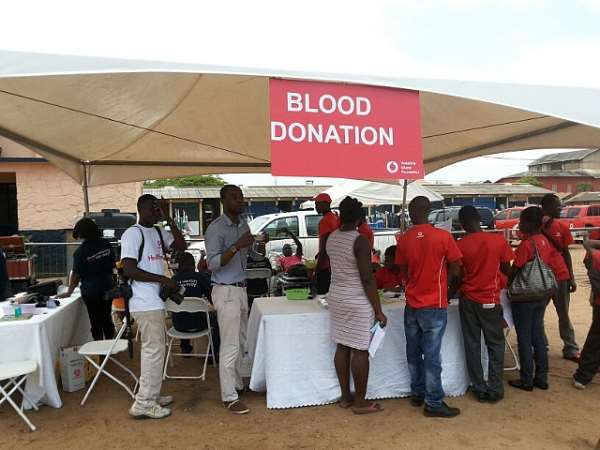 Voda HealthFest
Accra, March 31, GNA- Vodafone Ghana Foundation, a body that responds to the needs of communities at the weekend held a health festival, which aimed at providing free quality health care and giving the public the opportunity to donate blood.
Mrs Nana Yaa Afriyie Ofori- Koree, Head of Vodafone Ghana Foundation said the event dubbed: Health Fest focuses mainly on the health sector by providing free quality health care to deprived communities.
She said the event would concentrate on diabetes and hypertension screening and counselling, dental health care, lifestyle and aerobics, distribution of drugs and blood donation.
As part of Vodafones contribution to the health sector, the 'Healthline' programme brings health care information to the door step of the people.
Mrs Ofori-Koree told Ghana News Agency (GNA) that the initiative would be carried out in James Town, in Accra and other parts of the country.
Dr Byrite Asamoah, Chief Executive Officer of Vantage Medical Solution, an organisation supporting the programme, stated that hypertension, hepatitis B and diabetes are health problems associated with Ghanaians, due to diet and lack of exercise.
He said there is the need for people to be screened, to be able to determine their health conditions and find solution to it.
In an interview with GNA, Dr Asamoah said people with such health problems would be referred to the nearest hospital for treatment since they are life threatening.
Madam Lydia Anor, an aged woman, told GNA that she came all the way from Korle Gonno to partake in the health screening exercise.
She expressed her excitement, after knowing her health status, and commended Vodafone Ghana Foundation for the initiative.
The foundation, was established in 2009 as a charitable arm of the Vodafone Business, and as a vehicle in performing social responsibilities.
GNA