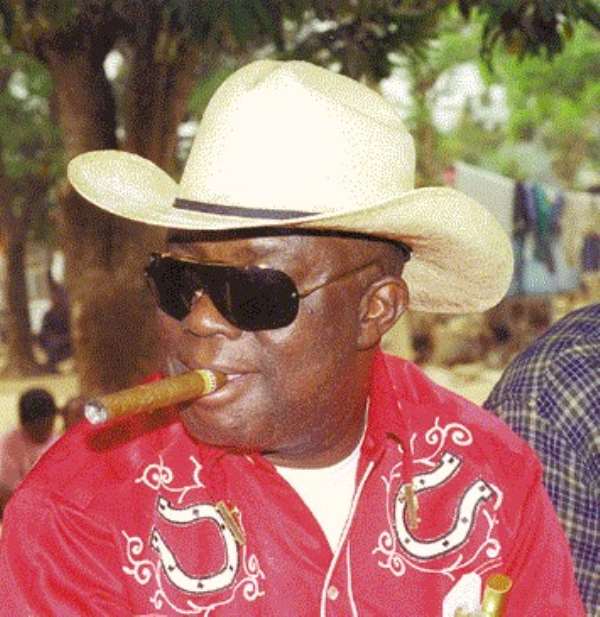 ... Kufour and his ministers duping Ghanaians ... Ghana's future is in the future Mr. Kofi Wayo, an aspiring presidential candidate of the People's National Convention (PNC), has declared that as far as governance of the state was concerned, there was no difference between the ruling New Patriotic Party (NPP) and the immediate past government of the National Democratic Congress (NDC). Mr. Wayo, who, until recently was a founding member of the NPP, stated that the policies of the ruling government were nothing but an enhancement of the obnoxious policies of its predecessor, the NDC. "The NPP is doing nothing different from what the NDC was doing and from all indications, president Kufour and his ministers are in office just to dupe Ghanaians and make more money rather than helping to salvage the nation's ailing economy," Wayo, also known as "Chuck" and "Nima boy" stressed.
Chuck was speaking at a forum dubbed "Legon Speaks", a current affairs programme organized at the University of Ghana, during which politicians are offered the opportunity to share their political perspectives with students.
He stressed that given the way and manner the country was being governed by the NPP, one could not fathom how Ghana could be said to have a future. " Ghana can only be said to have a future which will be in the future itself," he philosophized.
The maverick politician likened the conditions under which Ghanaian students live to prison cells, adding that even comparatively, prisoners were better.
The PNC kingpin criticized the government for not doing enough to improve the existing conditions at the country's educational institutions but was rather focused on the welfare of ministers and members of parliament whom he said needed no help under the current conditions.
If the president of the country, he went on, has to walk everyday to his office in order to keep children of school going age in school, he has to do exactly that to show that he is a good leader.
"Everywhere in Accra, you see children of school going age on the streets, either selling iced water or dog chains because they cannot pay their school fees. In this same country, the president travels with a 21-car motorcade amid pop and pageantry all the time. Why should we allow this to continue unabated?" he wondered.
Mr. Wayo called for a policy that would ensure that ministers and MPs paid their own rent charges, utility bills and also fuel their own cars so that they would also feel and appreciate the suffering of the masses and implement policies that would benefit the poor majority.
He advised the students at the forum to part ways with the NPP and join the PNC bandwagon, which he said, was prepared to implement sound and prudent policies to enable Ghana wake up from its current economic slumber.