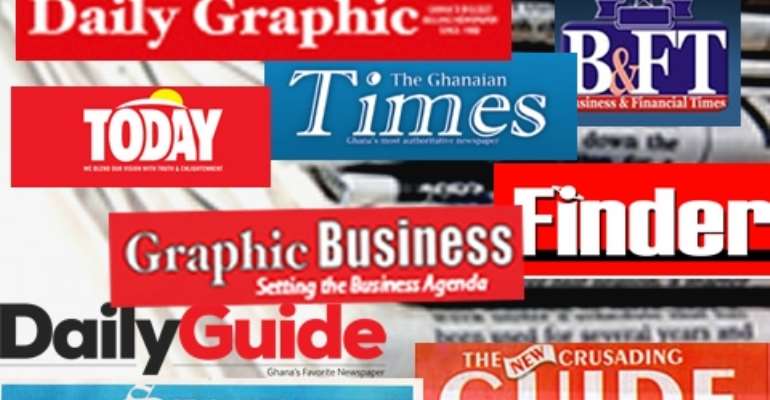 GOV'T WRITES TO LEGON TO STOP COLLECTING TOLLS BUT VC SAYS DECISION RESTS WITH COUNCIL
The controversy over the collection of road tolls at the University of Ghana may soon come to an end come to an end with the Ministry of Roads and Highways having requested for a dialogue with the university to work out modalities for the payment of debts incurred by the university to maintain the roads on the campus.
KOMLA DUMOR BEGINS JOURNEY 'HOME' TODAY
The three-day funeral rites of Komla Dumor, BBC senior broadcast journalist and former presenter of Joy FM's Super Morning Show, begin today.
UNIVERSITY OF GHANA TO SUE GBEVLO-LARTEY
The Academic Board of the University of Ghana has directed the university's management to take legal action against the National Security Coordniator, Lt Col Larry Gbevlo-Lartey (rtd), and his team for demolishing a tollbooth and a security post which were under construction at Legon.
2 PRUDENTIAL BANK OFFICIALS IN COURT FOR DEFRAUDING SINGAPOREAN BANK OF $611,649
Two top officials of Prudential Bank Limited and an Indian businessman have been arraigned before the Accra Circuit Court for allegedly defrauding the United Overseas Bank, Singapore to the tune of $611, 649.
POWER INSTABILITY STILL NAGS
A shortfall in aggregate electricity supply of 160 megawatts (MW) has necessitated the management of the available load - a polite term for scheduled powercuts - with industries given priority over domestic users, B&FT has been told.
POLICY ON EDUCATION WEAK AND UNRESPONSIVE
Executive Director of the Springboard Road Show Foundation, Rev Albert Ocran, has described the country's policy framework on education as very weak and seemingly unresponsive to the challenges facing young people, while advocating robust policies to respond to the problems facing the sector.
'BUY LOCAL' EDUCATION MINISTER DECLARES AS SHE LAUDS SDF PROJECT
Minister of Education Professor Jane Naana Opoku-Agyemang has called for aggressive marketing and patronage of locally-made products to support various initiatives from government and various initiatives from government and donor agencies that aim to shore up local skills-based enterprises, expand production and boost jobs.
JUJU WILL NOT HELP YOU - JUDGE TELLS ACCUSED
An attempt by a mason, Emmanuel Gyau, to use spiritual intervention in a case in which he is accused of defiling a 13-year-old girl yielded no effect when the judge told him "the law is the law, incantations will not help you".
MEET COACH KWASI APPIAH
Believe or not, Black Stars coach Kwasi Appiah says growing up, football was not his strongest passion and never dreamt of taking it up as a full time carrer.
GO TO HELL! GBEVLO-LARTEY TELLS LEGON
The National Security Coordinator, Lt Col Larry Gbevlo-Lartey (rtd), has called the bluff of the authorities of the University of Ghana, virtually telling them to go to hell over the threat to haul him to court for his decision to dismantle the toll booth being constructed at the Legon campus of the university.
ARREST PROPHET NKANSAH - COURT ORDERS
An Accra Circuit Court has issued a bench warrant for the arrest of Prophet Daniel Yaw Nkansah, founder of the New Vision Party (NVP), for robbery.
LOVERS LOCKED UP IN SEX
Unsubstantiated report making the rounds in Sunyani, the Brong Ahafo Regional capital, suggests that two love birds got glued together during a hot afternoon sexual intercourse on Wednesday.
JOHN MAHAMA'S FRIEND GOODLUCK JONATHAN IN TROUBLE
President John Dramani Mahama's "best friend" in the West African sub-region is facing an uphill battle as he seeks re-election next year, after a series of unprecedented setbacks that have raised doubts about his political survival.
AFOKO URGES CALM IN NPP, ASSURES SUPPORTERS HE REMAINS FOCUSED
A leading contender for the National Chairman position of the New Patriotic Party, Paul Afoko, has called for calm in the party, especially among his fans and supporters, in order not to put the party's name into disrepute, as the party's vetting committee deals with issues arising out of a petition against his candidature.
FORM 2 SHS STUDENT ROBBER CRABBED!
The Ashanti Regional Police command has arrested three robbers including a 19 year-old form two student of Kumasi-based Osei Tutu Senior High School.
KUFUOR'S MIRACULOUS BOREHOLE ATTRACTS MORE CUSTOMERS
A quiet town, Adomfe in the Asante Akyem South district of the Ashanti region has turned into a tourist and healing centre with hundreds of people from various parts of the country visiting the town on daily basis.
GHANA COCOA SMUGGLERS BUSTED
Investigations conducted by the Daily Heritage reveal that cocoa growers at the border town, Elubo in the Jomoro district of the Western region of Ghana's cocoa beans to neighbouring Ivory Coast due to the adjustment of scales to produce clerks (PCs) and a drop in the cedi.