NDC Is Fante- And Ewe-Biased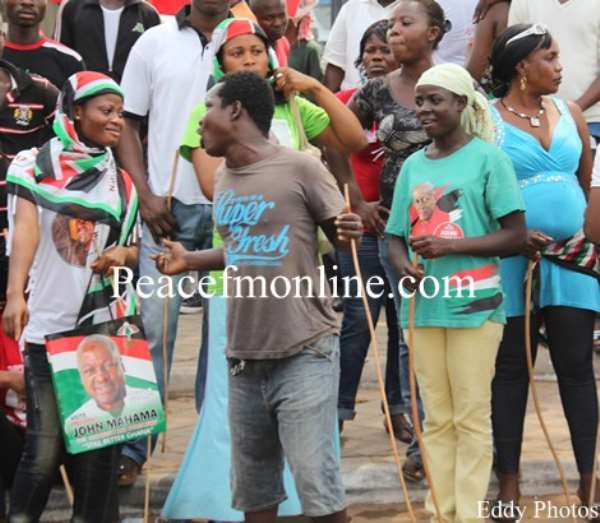 Fellow Ghanaians, let us get certain things straight and out of the way, forthwith, before this virulent and inexcusably puerile inter-ethnic slugfest gets out of hand. Which is not to say that I am not enjoying it in any way, for I am. Indeed, it has taken quite a long time to put this ugly under-belly of intra- and inter-ethnic relations in our country front and center and boldly attempt to resolve it once and for all, as much as practically possible.
Needless to say, there is this myth about a homogeneous and group-thinking Akan ethnic identity and sub-polity. Nothing could be farther from the truth. And this is the reason why it has been very easy for such inordinately aggressive ethnic minorities like the Ewe and Gonja to band together, rig the ballot and ride roughshod over Ghana's Akan ethnic majority. It is a curious paradox, of course, but it is the incontestable reality, nonetheless.
It is also rather insufferably insulting for the notorious ethnic-baiting operatives of the ruling National Democratic Congress (NDC) to feel smug and self-righteous, and even morally superior, to their ideological opponents of the main opposition New Patriotic Party (NPP), merely because one or two members of the NDC's national executive operatives are of Bono/Brong descent. Well, the fact of the matter is that not all Akans are of Brong or Fante sub-ethnic descent.
We are, all of us, also fully aware of the fact that the single-largest Akan sub-ethnic majority is the Asante. And so the critical litmust-test question for NDC apparatchiks and professional ethnic-baiters like Mr. Yaw Boateng-Gyan, the National Organizer of the Machiavellian Rawlings juggernaut, ought to be asking themselves, if they were really honest, is the following: Why has no party member of Asante descent ever been nominated as either flagbearer or deputy-flagbearer of the so-called National Democratic Congress? ( See "Only Akyems and Ashantis Are Selected Flagbearers in NPP - Y. B. Gyan" Peacefmonline.com 2/20/14).
And for the benefit of those who may not know this, all the flagbearers of the NDC have been Ewe and Fantes, who were initially used as presidential "spare tyres/tires" for the primary purpose of tactically splitting the Akan vote. And so the follow-up question logically becomes: Is it because there are no qualified Asantes to head the topmost ticket of the NDC? Indeed, about the only time that the NDC came closest to nominating an Asante-descended vice-presidential candidate, and to be certain a long shot at that, was when Mr. Rawlings (aka Togbui Avaklasu I) rudely and savagely attempted to arm-twist the now-late President John Evans Atta-Mills into selecting Mrs. Nana Konadu Agyeman-Rawlings to chaperon the first postcolonial Fante president of Ghana. In other words, the only Asante qualified to be nominated Presidential Candidate of the National Democratic Congress ought to have been sleeping with the founding-patriarch of that party. And then, of course, in the bedroom, we all have quite an accurate idea of who will be lying on top of the other.
And, of course, we also know that a morbidly and rabidly Asante-loathing President Mills was highly unlikely to even go to bed dreaming about an Asante-descended friend or relative, let alone fathom selecting one as his running-mate.
We are also forced to highlight the fact that Akyems are far more likely to be antagonized and even character-assassinated by Asantes, our closest kinsfolk and relatives, than are the Brongs, now that Mr. Boateng-Gyan brings up the subject of the widely alleged disdaining of Dr. Kofi Abrefa Busia by Asantes in general. The paradoxical question here, though, is that why would Asantes overwhelmingly cast their ballots for a personality whom they morally considered to be scarcely a cut above the socio-political status of a simian, an ape, "Joe Blackie," if you would? What does this tell you about the character and moral credibility of Mr. Boateng-Gyan? And just why would an astute personality like Prime Minister Busia fervidly and staunchly champion the cause of Asante cultural and political unification and integrity?
Every intelligent person knows that there is something called "benign ethnic jokes," which virtually every ethnic group indulges about its neighbor primarily for humor and the very human sake or emotional need of frivolously feeling better than the other. Even such benign jokes exist among friends and individual family members and relatives. Such jokes are often predicated on some remote victory or some sort of advantage, political, cultural or economic, that one group might have had in the distant past over another. And so Mr. Boateng-Gyan's rather unnecessarily bitter anti-Asante tirade and grievance is rather petty. Which is not to say that, informally, the collective sub-ethnic relations between Brongs and Asantes could not be further improved or made more cordial.
The preceding notwithstanding, contrary to what Mr. Boateng-Gyan would have the rest of us believe, it is only the Akyems who can proudly, and incontestably, boast of being the most politically and culturally reviled arch-rivals of the Asantes. The only exception to such reviling in the national political arena, of course, is Dr. J. B. Danquah. Indeed, fast-forwarding to our time, much of the forensically unproven drug-addiction accusations, and other forms of character-assassination, against Nana Akufo-Addo were deftly and hugely successfully orchestrated by some Asantes who publicly preferred to comfortably, and even proudly, identify with our Fante kinsfolk than us Akyems, even when a significant percentage of their own parentage was Asante-Akyem.
You see, the difference between Brong political operatives like Messrs. Boateng-Gyan and Asiedu-Nketia, on the one hand, and Nana Akufo-Addo, on the other, is that we, Akyems, as numerically minuscule as we may be, are yet a hardy lot who are not easily fazed or intimidated by anybody. We have also fiercely fought for every inch and millimeter of the space that we presently occupy in this country (Ghana, that is). And as a minority even within the greater Akan ethnic polity, we have, nevertheless, proudly and yeomanly contributed more than our fair share to the making and development of our motherland. Underline "Motherland."
At any rate, Ghanaians also need to be reminded that the so-called National Democratic Congress has the unenviable track-record of strategically using Fantes to invidiously disunite Akans, in order for Ewes and Gonjas to internally colonize and perpetually dominate us. But let me send a strong warning to the reckless and unconscionable Trokosi and Atinga predators of our Motherland, it won't be long before we, the Akan Ghanaian majority, throw off the manacles of wanton theft and exploitation and inveterate animosity slapped on our wrists and ankles by these scheming posse of liars and pretenders to patriotism.
As sure as Divine Providence is alive and awake, and Satan and Caesar also have their marginal spheres of influence right here on Earth, sharp ideological divisions and differences are going to continue to exist among us; for they exist even among families and relatives. Nevertheless, blood, as our ancient sages have long observed, is thicker than water. The New Patriotic Party needs to rise above petty intra- and inter-ethnic baiting and focus squarely on our common destiny as a civilized and morally upright Ghanaian citizens desirous of reaping the salutary benefits of rapid socioeconomic and cultural development. Ghana Shall Be Free!
*Kwame Okoampa-Ahoofe, Jr., Ph.D.
Department of English
Nassau Community College of SUNY
Garden City, New York
E-mail: [email protected]