UMCF presents memorandum to Registrar General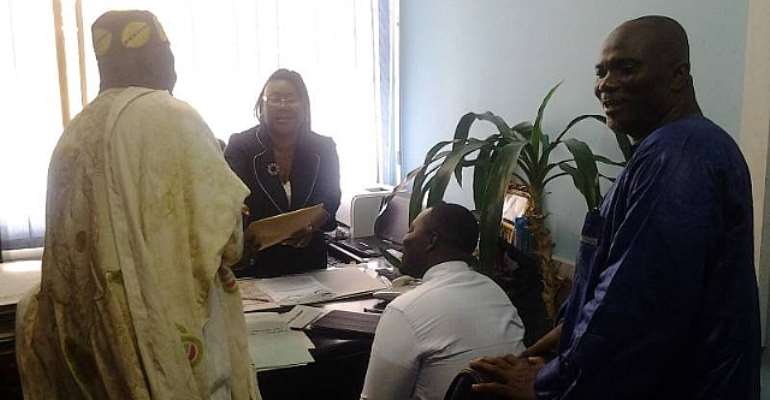 Accra, Feb. 19, GNA - Alhaji Ahmed Nii Nortey, Executive Director of United Muslim-Christian Forum (UMCF) has presented a memorandum to the Registrar General to provide a mechanism for the regulation and conduct of Muslim marriages and divorces in Ghana.
The memorandum sets out in some detail the processes for the registration of Muslim marriages and divorces whilst attempting to obviate some of the legal and institutional difficulties that saddled the registration of Muslim marriages and divorces.
Leading a three-member delegation to present the memorandum, Alhaji Nortey said: 'We, Muslim stakeholders in Ghana have met to review the status of marriages of Mohammedans Ordinance (CAP 129).'
He said Muslims in the country acknowledged the steps taken by the Registrar Generals Department to develop draft tools including the Marriage Register and License for Imams.
'We also acknowledge the steps taken by the Attorney General's Office in making proposals for review of CAP 129 and we commend the Government of Ghana in facilitating the implementation of the law.'
Alhaji Nortey said the memorandum was divided into seven parts, which provides for the establishment of a Muslim marriage and divorce registry and the appointment and functions of a registrar of Muslim marriages and divorces.
He said the functions of the registrar included supervising the registration of marriages and divorces; licensing of marriage officers and places of marriage; and ensuring that monthly returns of registered marriages and divorces from licensed marriage officers were entered in the marriage register.
It also deals with licensing of marriage officers and places of Muslim marriage and provides for the licensing of Muslim places of marriage and the pre-requisites for obtaining a license.
'The section also gives the registrar the power to revoke licenses granted when there is a good reason to do so, whiles sections five and six deal with the registration of licensing of imams or marriage officers and the conditions upon which such licenses may be granted.'
Alhaji Nortey said the memorandum also deals with marriage contracts, establishment of Muslim Arbitration and Counselling Units where Muslim men who intended to marry a second, third or fourth wife needed to obtain a written consent.
Alhaji Nortey said the memorandum also deals with caveats to the celebration of Muslim marriages and divorces and succession in the case of registered marriages, unregistered marriages and unmarried Muslims.
Receiving the memorandum, Mrs Jemima Oware, Deputy Registrar General, on behalf of the Registrar General, said several Muslim institutions had presented memorandum on the same issues.
She said a stakeholders meeting would be held for more deliberations on the issues and then be forwarded to the Attorney General Department for a final draft.
She thanked the organisation for the interest shown to expand the scope of Islamic marriage registration in Ghana.
Members of the delegation include Alhaji Imoro Baba Issah, Public Relations Officer of the National Council of Zongo Chiefs and Mohammed Shahadu, Interim Secretary of Federation of Muslim Lawyers.
GNA