God will Fight For Me -Soulama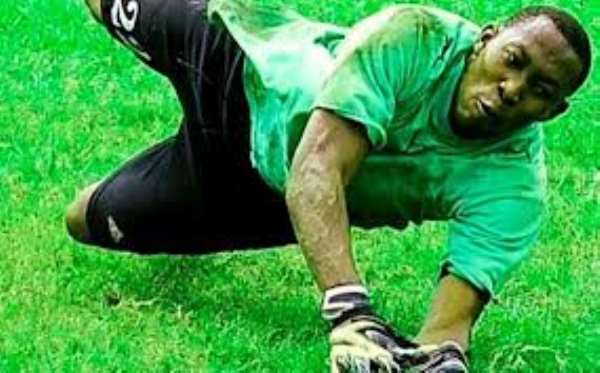 Asante Kotoko goalkeeper, Abdoulaye Soulama has claimed innocence to bribery allegations brought against him in the wake of the club's exit from the CAF Champions League.
Soulama has been accused for aiding Kotoko's fall in the CAF Champions League after the champions were dumped by debutants, Barack Young Controllers (BYC), over two legs.
The Burkinabe has been fingered for taking bribe from officials of the Liberian side, ahead of Kotoko's game in Monrovia last Sunday, an accusation Soulama has refuted.
He told GNA Sports that 'God will fight for me. I am a Muslim and faithful in prayer and I know He (God) will fight for me'.
Kotoko were eliminated on the away goal rule despite winning the first leg 2-1 in Kumasi before losing 0-1 in the return fixture.
According to the peddlers of the allegation, Soulama conceded two easy goals in keeping with his side of the bargain.
Soulama, who remains Kotoko's first choice goalkeeper since joining the side in 2007 said ' I plan to investigate this to the very bottom to know where this is coming from. I will not stop until I find the truth.
  'I will give anything to know the truth; if it means with the last drop of my blood'. Soulama, 34, is alledged to have received 3,000 dollars as bribe to help BYC advance at the expense of Kotoko.
GNA