19 Students awarded scholarships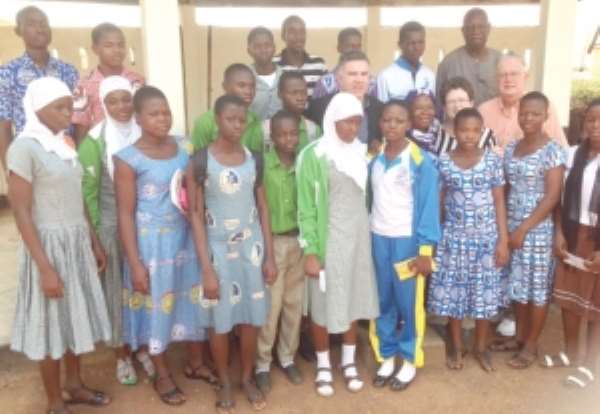 Nineteen students who gained admission to various senior high schools (SHSs) in the Tamale metropolis for the 2013/2014 academic year have been awarded scholarships to enable them to pursue their secondary education under the Zom-Simli-Naa Scholarship Scheme.
The scheme, which is in its seventh year of operation, supports an average of 20 needy, academically good students each year through SHS education.
The presentation of the scholarship to the beneficiaries coincided with a visit of a three-member delegation from Louisville, Kentucky, in the United States of America (USA) to Tamale.
The Zom-Simli-Naa Scholarship Scheme, an initiative of the Tamale Louisville Sister Cities, received financial support from Louisville. Delegation from Louisville
The delegation from Louisville was in the country to interact with both past and present beneficiaries of the scheme and also to strengthen the sister cities relationship between Tamale and Louisville.
Speaking at the presentation ceremony, Mr Kojo Kaleem, the immediate past President of the Tamale Sister Cities Relationship, said every year, the scheme supported an average of 20 needy, brilliant students through SHS education.
He said the continuous enjoyment of the scheme by a beneficiary was based on his/her academic performance, and pointed out that the bursary was withdrawn if after a year, a beneficiary did not perform well academically.
Mr Kaleem, therefore, urged the beneficiaries to study hard to ensure that they  continuously benefitted from the scheme, adding that the scheme also provided a one-year support for those who had gained admission to tertiary institutions and were in need of financial support.
Mr Kaleem, on behalf of the Tamale Sister Cities, thanked the delegation for the visit by the Louisville delegation and expressed the hope that it would go a long way to deepen the relations between the two cities.
The leader of the delegation, Dr Dexter Mahaffey, the Director of Diversity and Global Studies of the Kentucky Country Day School, said the purpose of their visit was to interact with both past and present beneficiaries and find out how they could build professional networks to support the scheme. Philanthropic groups
He disclosed that Louisville and other like-minded philanthropic groups were working together to raise $1million dollars within the next two years to support the expansion of the scheme to enable more people to benefit.
Dr Mahaffey said it was their vision to build professionalism, entrepreneurship and philanthropists among the youth globally.
The Treasurer of the Tamale Sister Cities, Hajia Fatima Mukiala, advised the beneficiaries to take their studies seriously since the scheme, for the past seven years, had had no cause to withdraw the bursary from any beneficiary.
A past beneficiary of the scheme and now an insurance broker in Tamale, Mr Iddrisu Yustlewu, who shared his experience, urged beneficiaries to take advantage of the opportunity to study hard to enable them to achieve their ambitions.