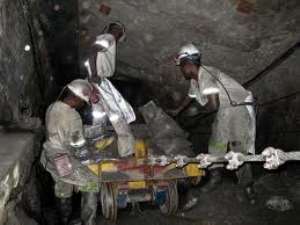 The Ghana Mineworkers' Union (GMWU) has welcomed the government's decision to seek international cooperation to move the mining sector from a primary to a secondary processor of mineral resources.
President John Mahama, who announced this, says the over-reliance on primary production has over the years denied the country of the expected benefits from mining.
In a statement, General Secretary of the GMWU, Prince William Ankrah, noted that the absence of secondary processing of Ghana's mineral resources was basically driven by "a kind of hegemony that created the impression that the country can only generate money from raw gold, bauxite and other minerals."
"The Union therefore supports the president's programme for secondary production for value addition to be actualized as soon as practicable," it said, arguing that this could become a major Presidential special initiative of our generation.
The group is advocating a legal provision that warrants at least 20 per cent of raw gold produced in the country is retained for that purpose must be initiated as a matter of urgency.
Ghana's gold refinery notion has died down for decades, including Dr. Kwame Nkrumah's vision of establishing a Gold refinery at Tarkwa – the proposed facility for the refinery has been turned into a university hostel.
The GMWU thinks all interest groups should give their maximum support to enable the president to bring renewed energy as well as a new thinking into the structure of the mining sector.
"This challenges the status quo of continuing to export minerals in their raw state," the statement said.
Mr. Ankrah added that having an aluminium smelting factory in Ghana for Bauxite will also be of great help to the country in respect of revenue enhancement as well as a vibrant manufacturing sector.
He emphasized that the same can apply to diamond at Akwatia as well as iron ore in the Oppong Valley which is yet to be tapped depending on its commercial viability.
"Cumulatively, this could have a great job opening for our struggling economy and help boost the economic activities in the host communities," he said.
Mr. Ankrah indicated that best practice elsewhere like Botswana has shown that the way to derive maximum returns from mining is through beneficiation.
Despite the current challenges in the mining sector; the GMWU thinks "the priority should be on ethical investments character with a shared architecture that benefits various stakeholders."
Story by Kofi Adu Domfeh