Anti-Galamsey taskforce saves Chinese miner from drowning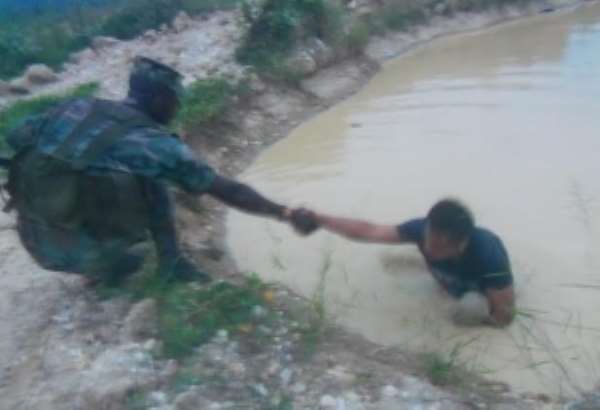 A swift intervention by the Ashanti Regional Anti-Galamsey Taskforce saved a Chinese illegal miner from drowning after he jumped into an abandoned galamsey pit to escape arrest.
Yuan Chen and two other colleagues have been operating at a mining site at Ampenkuro, near Nyinahin in the Atwima Mponua District of the Ashanti region.
He took to his heels on seeing members of the taskforce on an operation, and dived into a water–logged pit.
Atwima Mponua is one of the district worst affected by illegal mining, resulting in heavy pollution of the Offin River and other streams.
Several hectares of cocoa and other farmlands have been destroyed by Chinese and other foreign miners, leaving poor Ghanaian farmers helpless without compensation.
Abandoned mine pits pose a danger to life and property in communities like Kotokuom, Anwiafutu, Moframfadwene, and Ampenkuro.
The District Security Committee is overwhelmed by reports of residents falling into and dying in pits.
Two Chinese, 24-year old Joshua Lee, Yuan Chen and a Russian were picked up by the Regional Anti-Galamsey Taskforce who stormed the area at the weekend.
Lee, a former English student of Beijing City College was without any form of national identification. He has no passport or a work permit.
According to him, he had been released from prisons two months ago before he joined the illegal mining operation in the Atwima Mponua District.
"The last time, I fought with some people and they took me to prison. I just came out of prison," Lee claimed.
When Immigration officials in the Regional Anti-Galamsey taskforce enquired about his passports, he replied, "I will go to the China embassy to get one".
District Chief Executive, Stephen Yeboah, said some licensed mining firms have leased part of their concessions to illegal miners.
He said such companies would be made to bear the cost of reclaiming the pits.
"Every land in Atwima Mponua ...where illegal mining is going on has owner according to the Minerals Commission. If you have property and you have allowed somebody to work on it and has left the pit, who should come and cover the pit for you? The owner of the concession [of course]," Mr. Yeboah insisted.
Meanwhile, the Regional Security Council wants collaboration from all stakeholders in the fight against galamsey, as perpetrators get more sophisticated.
Regional Security Liaison Officer, Bimpong Marfo revealed that illegal Chinese miners have changed their modus operandi as they now work in the night.