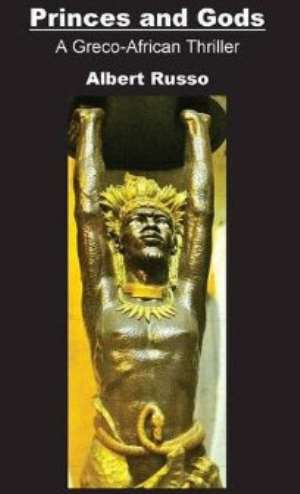 Books Name: Princes and Gods - A Greco-African Thriller
Author: Albert Russo
Company: Editorial l'Aleph (A Member of Wisehouse)
Email Address: [email protected]
Web Site Address: http://l-aleph.com/wordpress/?p=422
Direct amazon link: http://amzn.com/918775102X

The Book Is A Greco-African Thriller Based on Historical Events set in Rwanda-Urundi
This thriller by the award-winning author Albert Russo was nominated for The 2000 International Frankfurt Book Fair Awards, along with the formerly entitled novel "Mixed Blood", and won the British Diversity Award in London. This novel has the ingredients of an African and a Greek tragedy at once and the author had initially thought of calling it: "Princes and Gods".
"Princes and God's power lies primarily in the scenes when the African reality, Russo deals with, is set as the background in front of which the narrative unfolds and with which it interacts, without bombast," (Jean-Luc Breton, Small Press Review and World Literature Today)
Every page shows the author's fascination for the Eden-like land and his sadness of what men made of it. This thriller, based on historical events, is set in Rwanda-Urundi, till 1962 under Belgian rule. The action takes place in Buja, the capital overlooking Lake Tanganyika. The time is before Independence. The population is constituted of Tutsi, a minority ruling over the majority of the land: the Hutu. This is the reason for internal pressures, about to explode (Professor Moshe Liba, polygot, writer, poet, artist and former Ambassador to 8 African countries).
About Albert Russo
Albert Russo who has published worldwide over 80 books of poetry, fiction and photography, in both English and French, his two mother tongues, is the recipient of many awards, such as The New York Poetry Forum and Amelia (CA) Awards, The American Society of Writers Fiction Award, The British Diversity Short Story Award, The AZsacra international Poetry Award (Taj Mahal Review), the Books & Authors Award, several Writer's Digest poetry and fiction Awards (winner and finalist), Aquillrelle Awards, the Prix Colette, 1er Prix Conte et Nouvelle Palmarès du Concours Europoésie UNICEF 2013, among others.
His work has been translated into a dozen languages in 25 countries, on the five continents.