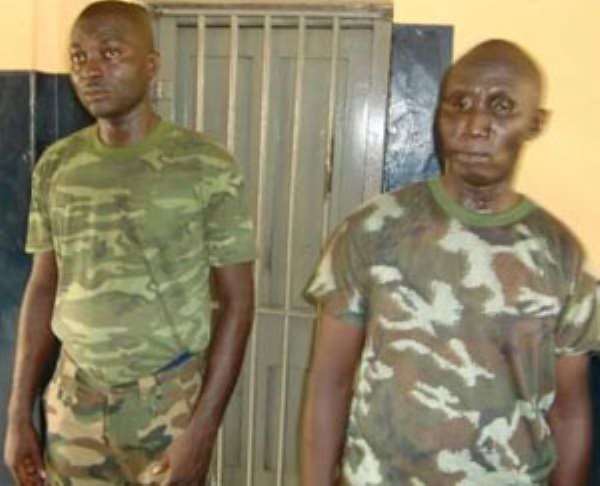 Two suspects, Ishmael Boyan, 45 and Francis Essilfie, 35, have been arrested for allegedly wearing military uniforms, posing as soldiers and harassing unsuspecting victims in Takoradi.
The two were private security personnel with Menergy Security Company in Takoradi and were arrested by officials of the Ghana Air Force in Takoradi and were handed over to the police.
ASP Olivia Ewurabena Adiku, Western Regional Police Public Relations Officer disclosed to DAILY GUIDE that on December 21, 2013, Flying Officer Edward Gudu of the Ghana Air Force noticed the two suspects wearing the Menergy Security uniform over the military uniform in town.
http://www.dailyguideghana.com/wp-content/uploads/2013/12/Menergy-Security-uniform.jpg
Boyan and Essilfie were therefore arrested and when they were questioned, suspect Boyan mentioned one L.Y Baah as the officer who gave the military uniforms to him.
When the suspects were searched, a knife each was found on them and when their rooms were searched later, another military uniform was found with Boyan.
The regional police PRO indicated that Boyan and Essilfie were in police custody pending further investigations.
 From Emmanuel Opoku, Takoradi