Investigate Vicky Hammah's tape - Emile Short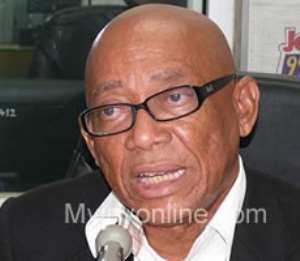 Former Commissioner of the Commission for Human Rights and Administrative Justice (CHRAJ) Justice Francis Emile Short has called for further investigations into a leaked audio recording attributed to former Deputy Communications Minister, Victoria Hammah.
Though he was dodgy over what exactly should happen next, Justice Short said anti-corruption institutions must take the matter up immediately it becomes clear it is the deputy minister's voice.
He was speaking on TV3's News 360 on Friday, November 8, 2013.
"First of all, it is important to get voice identification," he recommended, saying it is after the "author of the tape" is confirmed that further investigations can follow.
He said since government did not give any reason in relieving Ms Hammah of her post, it will be unfair for people to link her dismissal to the leaked tape.
But the former CHRAJ Commissioner was emphatic that the content of the tape puts Ghana in the bad light internationally.
"The statement is not a very commendable one especially coming from a deputy minister," he said.
A leaked tape on Thursday had the failed-Member of Parliament aspirant for Ablekuma South Constituency discussing issues confined to government, adding until she makes $1 million, she would not quit politics.