Gender Ministry to establish data center for social protection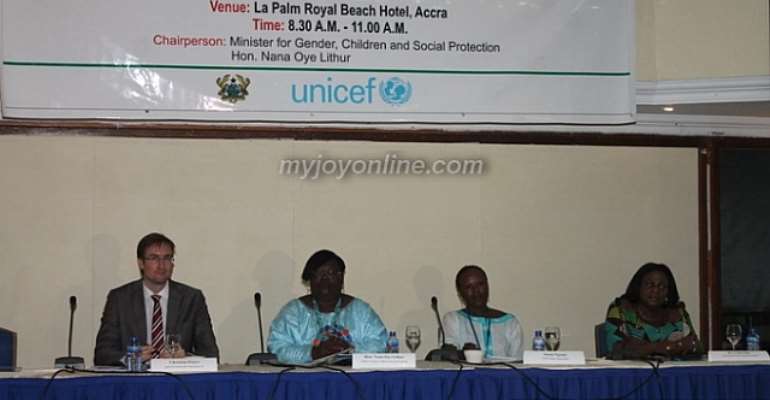 The Ministry of Gender, Children and Social Protection will soon establish a data center to register all beneficiaries of the Government social protection interventions.
This will eliminate all those who enjoy benefits from various interventions to pave way for others to benefit.
The center will be used to evaluate and ascertain whether the social protection system in Ghana is reducing poverty and inequality as well as identify its linkage to economic development.
This was announced by the sector Minister, Nana Oye Lithur at a panel discussion on social protection in Accra.
The program which brought participants from the civil society organizations donor agencies including policy makers, aimed at discussing the role of social protection policies in accelerating the achievements of the MDGs, addressing poverty and inequalities and boosting inclusive economic growth and sustainable development.
It also seeks to find possible ways of tackling extreme poverty and the vulnerable through social protection.
Speaking with Myjoyonline.com, Nana Oye Lithur said there was the need to find out whether the money given to beneficiaries is actually serving its purpose of reducing poverty.
She said the proper monitoring could be done when policy and legal frame work for the program are established.
She noted that her ministry was introducing an electronic payment to ease delays in disbursing funds to beneficiaries. She said consultations are underway with MTN, Ezwiztch and Aya Technology, for the achievement of the purpose.
She promised to strengthen the civil society organizations and build capacity of the private sector to monitor the program.
The Livelihood Empowerment against Poverty (LEAP) Program is a social cash transfer program which provides cash and health insurance to extremely poor households across Ghana to alleviate short-term poverty and encourage long term human capital development.
LEAP started a trial phase in March 2008 and then began expanding gradually in 2009 and 2010. As of July 2013, the program had reached over 70,000 households across Ghana with an annual expenditure of approximately USD20m.
The program is funded from general revenues of the Government of Ghana (50 percent), donations from DFID and a loan from the World Bank. It is the flagship program of Ghana's National Social Protection Strategy and is implemented by the Department of Social Welfare (DSW) in the Ministry of Gender, Children and Social Protection (MoGCSP).
Eligibility is based on poverty and having a household member in at least one of three demographic categories; single parent with orphan or vulnerable child (OVC), elderly poor, or person with extreme disability unable to work (PWD).
Initial selection of households is done through a community based process and is verified centrally with a proxy means test. An exciting feature of LEAP, unique in the world, is that aside from direct cash payments, beneficiaries are provided free health insurance through the new National Health Insurance Scheme which began in 2004-05.
This is facilitated through an MOU between the MoGCSP and Ministry of Health; funds to cover enrollment in health insurance are transferred directly to the local health authority who then issues cards to LEAP households. Continued receipt of cash payments from LEAP is conditional on a health insurance card.