De Villiers feels pressure over South Africa batting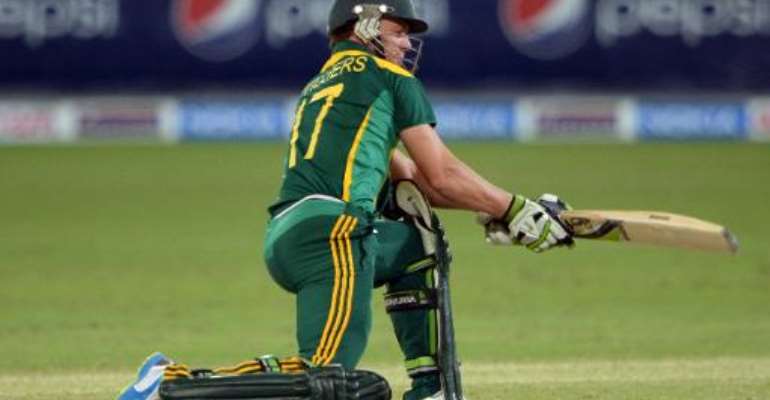 Dubai (AFP) - South African captain AB de Villiers admitted he was feeling pressure over shortcomings in batting after his team's 66-run defeat against Pakistan in the second day-night international in Dubai on Friday.
South Africa slumped to their second lowest total against Pakistan when they were bowled out for 143 in 40.4 overs after chasing a modest 210-run target.
Leg-spinner Shahid Afridi (3-26), paceman Mohammad Irfan (3-53) and Saeed Ajmal (2-15) rocked the South African batting to level the five-match series at 1-1.
South Africa pulled off a sensational one-run win in the first match in Sharjah on Wednesday, but even then they were bowled out for a paltry 183.
South Africa have now failed to cross the 200-mark in five of their last seven matches, including a 4-1 defeat against Sri Lanka in July this year.
"To be very honest I am feeling pressure," said De Villiers after Friday's game. "I think any captain that leads a proud nation like South Africa and the Proteas team feels pressure and I do feel pressure.
"But I am enjoying my captaincy more than ever and feel that I am getting good response from the guys, especially on this tour, it didn't show tonight but I have full confidence that it will come through in the next one," said De Villiers, who praised Pakistani spinners.
"They have two bowlers in the top five in one-day rankings and it's world class spinners we are playing against, but once again I have full confidence that we will come back," said De Villiers, who has only one half-century in the last ten matches.
"I am passing 20 or 30 odds and I was flowing when I scored 50 (in Sri Lanka). I always try to get the 20 and 30 odd and then get a feel of the game and from there on I kick on but haven't had that in the last few games," said De Villiers, number one batsman in Test rankings.
De Villiers said his team was working hard to overcome batting woes.
"We are all working, we are doing pretty much everything, doing the hard yard but that's not paying off, it's a matter of one or two guys to put their hands up and give that performance."
South Africa will hope star batsman Hashim Amla boosts their batting after he is expected to rejoin the squad in time for the third game in Abu Dhabi on Wednesday.
Amla returned home for the birth of his child ahead of the second Test, which South Africa won last week to level the two-match series 1-1.
Spearhead Dale Steyn will also join the team after missing the first two one-days to have rest at home.
Pakistan captain Misbah-ul Haq admitted the series will get tougher.
"We have a very tough series on our hands, they are very tough opponents and going to give us a hard time," said Misbah, whose team has never won a one-day series against South Africa.
Misbah said the morale of the team was high after staging a comeback.
"Obviously we lost the first match from a winning position and when such things happen you get disappointed. But at the back of our minds we had that confidence that we dominated the 95 overs, it was only that we lost the match in the last five overs or so.
"After this win the morale is high and we needed that comeback win," said Misbah, who also completed 1,000 one-day runs in 2013.