Indiscipline partly responsible for labour unrest — Gamey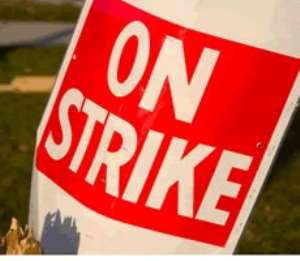 He said there was the need for people to respect institutions such as the National Labour Commission (NLC) and follow those principles for resolving labour disputes.
Mr Gamey, who was speaking to the Daily Graphic in an interview on how to curb the rampant labour unrest, said people should not shy away from the truth and that 'the spirit of Ghana is becoming an indisciplined and intolerable one'.
He said most strikes in the country were illegal and associated himself with the assertion made by the Presidential Advisor on National Security, Brigadier-General Joseph Nunoo-Mensah (retd), over the weekend that labour unrest in the country was due to indiscipline on the part of striking workers.
 
Brigadier-General Nunoo-Mensah's assertion
Brig-Gen Nunoo-Mensah had said, among other things, that 'it was a sad commentary, for instance, that doctors, who had sworn to abide by the Hippocratic Oath, could lay down their tools and issue ultimatum to the government while people died in the hospitals', adding, 'We cannot build this nation without discipline.'
He added, 'We need to be disciplined if we are to move forward as a nation. We should stop complaining and stop passing the buck and solve the problems that confront our nation.'
Among other things, he called on people who could not be patriotic enough to get out of the country so that those who could would build a better Ghana.
Mr Gamey said he agreed with the assertions by the National Security Advisor and that although labour had the right to go on strike, there was also the need for labour to use legal channels but not use power play, as was often witnessed in the country.
He said Brig-Gen Nunoo-Mensah had been bold in 'lamenting on his personal and national frustrations' publicly.
 
What needs to be done
According to him, the cardinal thing that needed to be changed in the country was the educational structure which he described as a system that belonged to the 17th century, saying that the country needed to start embracing the 21st century way of educating people and even be thinking about moving into the 22nd century.
Mr Gamey said there was the need for people to subordinate their feelings in furtherance of the country's agenda.
To help solve labour unrest in the country, he called on the Attorney-General and Minister of Justice to, as a matter or urgency, put into motion plans to set up the commission on Alternative Dispute Resolution (ADR), so that people could have an alternative to seeking redress aside from the NLC.
He also said communication between employers and employees was vital in curbing labour unrest and urged both sides to get together in dealing with the issues.
Mr Gamey advised organised labour, which was intending to organise a demonstration on Tuesday, October 22, 2013, to rather allow a committee established by the government, of which it was part, to work.
By Rebecca Quaicoe-Duho
Writer's Email: ' ); document.write( addy24964 ); document.write( '' ); //--> This e-mail address is being protected from spambots. You need JavaScript enabled to view it