NPP behind strikes, labour unrests, says Nunoo-Mensah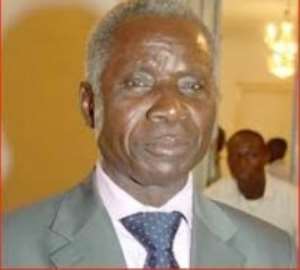 The National Security Advisor, Brigadier-General Joseph Nunoo-Mensah (rtd), has accused the New Patriotic Party (NPP) of being behind the prevailing strikes and labour unrests in the country, it has been reported.
According to Adomonline.com, the  retired Brigadier-General stated on Tema-based Adom FM that he, as an intelligence chief, was certain that the NPP was behind the current labour unrest.
Brigadier-General Nunoo-Mensah was quoted as saying:  'I have enough experience, working with CIA and other intelligence agencies, to say that NPP is behind these things.
'I'm experienced enough to know that these are politically motivated demonstrations. They are hiding behind others, like the Trojan horse, to destroy the nation.
'If it's not political, why is it that NPP people are insulting me? Nana Akomea and others. I know this is part of the political struggle.
'I know everybody in NPP. In 1996 I stood on NPP ticket, if you don't know, so I know everybody there. They are the ones behind it.'
The National Security Adviser has recently been in the news for calling on public workers who are not ready to sacrifice and work to take their passports and 'get out of the country'.
Brigadier-General Nunoo-Mensah (rtd) who said this at the inauguration of a nine-unit classroom block at the O'Reilly Senior High School Saturday, suggested that the government should no longer tolerate the phenomenon of workers laying down their tools every now and then, instead of using dialogue to resolve their grievances.
'If anybody goes on strike, he should not be paid. If you cannot sacrifice for the country the way some of us have done, then get out,' he said.
His comments have triggered criticism and condemnation from a cross-section of the public, with the New Patriotic Party (NPP) Monday calling for his dismissal.
Graphic.com.gh/Ghana