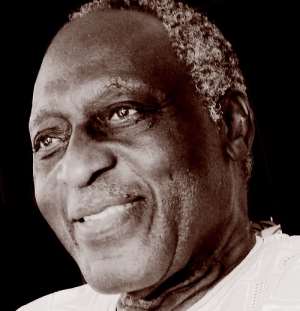 The New Patriotic Party has joined Ghanaians to mourn Prof. Kofi Awoonor, whose untimely death occurred in Saturday morning's terrorist attack in Kenya's capital, Nairobi.
The son of the former Chairman of the Council of State, who was with him in Kenya, was among the injured that survived the attack. The aatack claimed at least 59 lives and injured 170 people.
A statement signed by Mr Jake Otanka Obetsebi-Lamptey, the National Chairman of the party, said that the NPP had learnt with utter shock the tragic death of Prof. Kofi Awoonor in Nairobi, Kenya.
It said that Professor Awoonor was a distinguished son of Ghana, a poet and a teacher, who served the nation in various capacities.
'Our deepest condolences go to his family and to President John Dramani Mahama, the government and the people of Ghana,' the statement concluded.
A government statement said: 'Professor Awoonor died from injuries sustained during an attack on the Westgate Shopping Mall in Nairobi which Somali militant group Al-Shabab had claimed responsibility for'.
Former Attorney General, Betty Mould Iddrisu, said the death of Ghanaian intellectual Professor Kofi Awoonor in Kenya had brought the terror of Al-Shabab into Ghanaian homes.
'RIP Prof. Kofi Awonoor', she Expressed her condololences on her Facebook  wall and bewailed: 'What a way for the terror of Al Shabab to reach the homes of Ghanaians'.
President Mahama wrote on his Facebook wall that: 'I am shocked to hear the death of Professor Kofi Awoonor-Williams in the Nairobi mall terrorist attack. He will be sorely missed by family, friends and the NDC'.
Professor Awoonor, the renowned Ghanaian poet and author, was in Nairobi attending a conference and was caught in the terrorist attack by al Shabab - a Somalia-based al-Qaeda affiliate group.
President Mahama's Kenyan counterpart, Uhuru Kenyatta, has vowed to 'hunt down' the perpetrators.