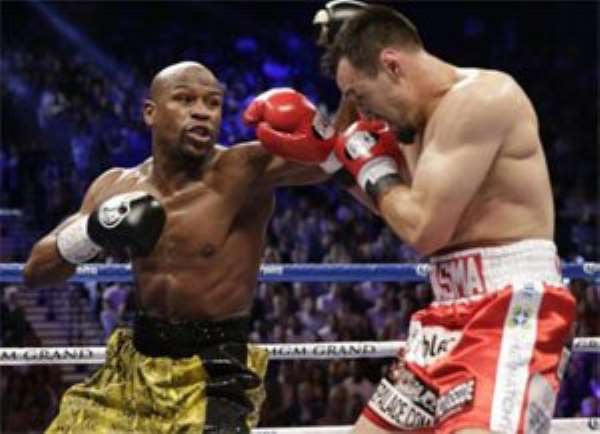 Floyd 'Money' Mayweather with Saul 'Canelo' Alvarez
In a clash for the WBC/WBA super welterweight belts, Floyd 'Money' Mayweather (45-0, 26 KOs) scored a one-sided twelve round 'majority' decision over Saul 'Canelo' Alvarez (42-1-1, 30 KOs) on Saturday night at the MGM Grand Garden Arena in Las Vegas.
Floyd simply outboxed Canelo from the opening bell. Alvarez was game and had some moments, but Floyd was dominant for the most part. Scores were 114-114, 116-112, 117-111. The bizarre 114-114 scoring was from C.J. Ross.
For the night's work, Mayweather collected a guaranteed $41.5 million. 'It's all about skills,' Mayweather said. 'I came out tonight and showed my skills. But a true champion like Canelo can take a loss and bounce back. My dad (his trainer) had a brilliant game plan. I executed that game plan. I could have pressed it and got the late stoppage, but tonight experience played a major key. Tonight was just my night.'
Canelo admitted that Mayweather's skills and style of fighting were too much to overcome. 'He's very elusive, he's a great fighter and that's why I couldn't catch him,' Canelo said.
'I didn't know how to get him. It's as simple as that. He's very elusive. He's a great fighter. The frustration was getting in there. But simply he's a great fighter. I didn't want to lose. I didn't want to leave here with a loss. But it happens and it hurts.'