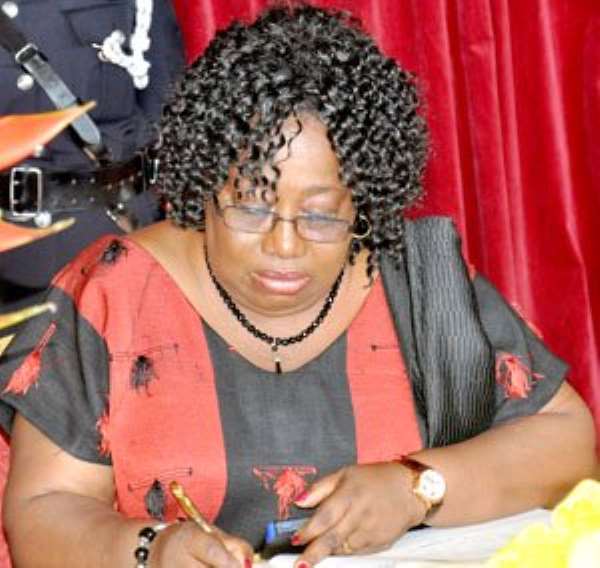 Doreen Owusu-Fianko
Board Chairman of Ghana Airports Company Limited (GACL), Mr Kuntu Blankson, has announced the dismissal of Mrs Doreen Owusu Fianko, Managing Director of GACL.
Mr Blankson, who did not give reasons for the termination of the appointment of Mrs. Owusu Fianko, made the disclosure on Asempa FM's Ekossi Sen programme yesterday.
According to him, the MD has been asked to handover to her deputy by Friday, September 13, 2013.
Mr Blankson also said the news of the dismissal of Mrs Owusu-Fianko was yet to be communicated to President John Mahama.
However, Mrs. Fianko, in an interview with the radio station, expressed shock at the development and maintained that in spite of the announcement of her dismissal, she was still at post since she had not formally received any letter to that effect from the board.
During her tenure, the Kotoka International Airport (KIA) was awarded the Routes Africa Airport Marketing Award for two consecutive times and also the best regional airport.
She was also crowned the Marketing Woman of the Year 2010, by Chartered Institute of Marketing, Ghana (CIMG) as CEO of the Ghana Airports Company Ltd.
She is an aviation and tourism expert with over 30 years of industry experience.
The Ghana Airports Company Limited (GACL) was established as a result of the decoupling of the existing Ghana Civil Aviation Authority (GCAA) in line with the modern trends in the aviation industry.
The company was registered in January 2006 with the responsibility for planning, developing, managing and maintaining all airports and aerodromes in Ghana, namely Kotoka International Airport (KIA) and the regional airports such as Kumasi, Tamale, Sunyani as well as various airstrips. The company commenced business on 1st January 2007.
In March this year, the GMA complained bitterly to the Minister of Communications, Dr. Omane Boamah, that the GACL had refused to honour a $2 million debt owed them for the services they had rendered.
The amount is part of landing fees collected from airlines that used the Kotoka International Airport (KIA) by the GACL.
The real issues that caused the GACL board to take such a decision is yet to be ascertained.
By Samuel Boadi