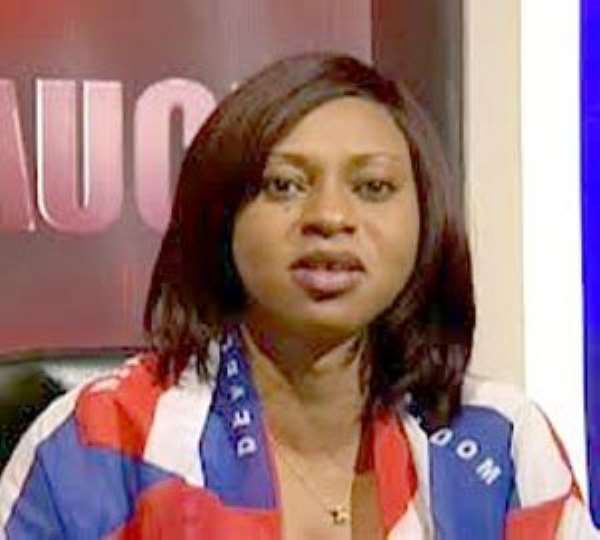 Adwoa Safo
Member of Parliament for Dome /Kwabenya Hon. Adwoa Safo has joined many high profile personalities to congratulate the 2012 presidential candidate for the New Patriotic Party (NPP), Nana Addo Dankwah Akufo-Addo for proving to the world that he is a man of peace.
She said Nana Addo's quick, timely and apt response in accepting the verdict of the Supreme Court was what saved the nation from imminent collapse.
She noted that if the statement of acceptance of the court verdict had delayed for a moment, she could not imagine what the nation would be going through by now and further asked the world to hail him.
In a statement released to the press, Lawyer Adwoa Safo said Nana Addo's impeccable record of service to the nation was once again clearly shown when he forthrightly accepted the final mandatory verdict of the Supreme Court which was jaundiced with so much ambiguities and confusions. Adwoa Safo also admonished politicians to desist from mudslinging their political opponents just for the purpose of achieving their selfish parochial interest. Corroborating the claim, she said Nana who has been a target of scorn and contempt by his political opponents, was badly labeled and branded as a violent person as they persistently threw dirt on his snow-white well deserved and impeccable public and service record. Today this same man, whom many had perceived to be violent as a result of how his political opponents had branded him, had to provide the Midas touch to save the country from chaos.
Hon Adwoa Safo, who is also a procurement lawyer, urged all political leaders, members, supporters and sympathizers of political parties to have faith in the Lord and believe in the fact that He does His things in His own time, even though the Supreme Court verdict was rather unfortunate and surprising. She has therefore called on all and sundry to allow the court's decision to be an eye opener, calling on every Ghanaian to reflect and forge forward in unity as they adequately prepare for 2016.