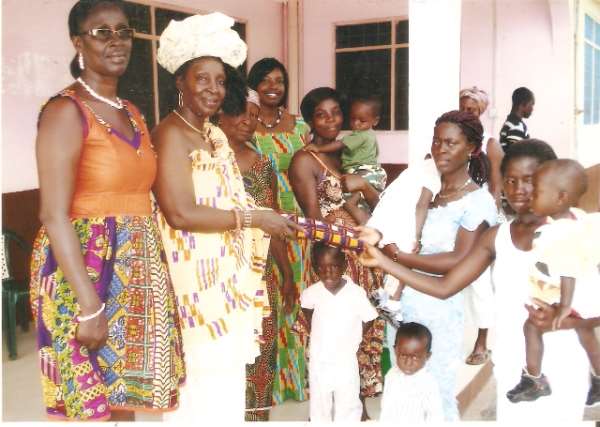 The newly installed Nkosohemaa of Akyem Apedwa Nana Aboagyewaa Asiedua, who is known in her private life as Dr Margaret Duah Attuahene , Paid a visit to Akyem Apedwa Presbyterian Church on the 25th August, 2013 .
She was accompanied by Okyehemaa Nana Adutwumwaa Dokuaa, Osaberima Obeneakwa Kwarifa (Akyem-Apedwa Hene), Hon Samuel Atta-Akyea (MP for Akyem Abuakwa South constituency and some Sub-Chiefs from Akyem Apedwa.
The Nkosohemaa Nana Aboagyewaa Asieduaa expressed her warmly appreciation to the Apedwa Presbyterian Church, for their prayers and support before and after she was made the Nkosohemaa.
She also assured the church members that she is going to fulfil her obligations as the Nkosohemaa for Akyem Apedwa. In one on one interview with her, she stated emphatically that she is going to coordinate with the women in Apedwa for a greater development.
The Nkosohemaa asked the entire congregations to unity in other to help promote development in the community.
She finally entreated the congregations and Ghanaians to keep preaching and practicing PEACE with one another for One Ghana.
By
Nana Asem Bi Nti
[email protected]