Stand off as Egypt security forces 'surround protesters in mosque'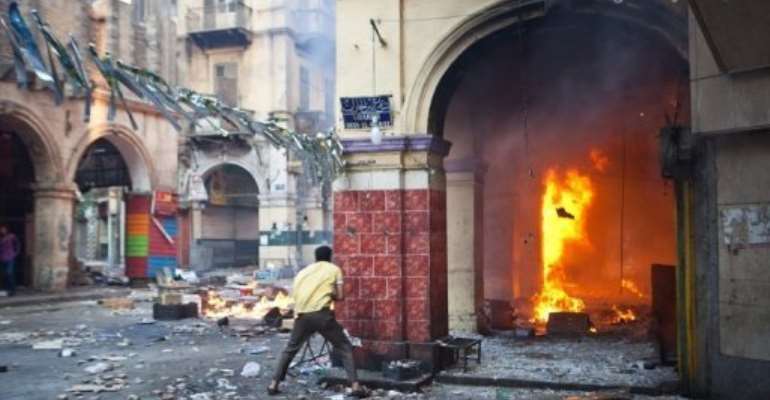 CAIRO (AFP) - Egypt security forces on Friday surrounded a Cairo mosque where Islamist supporters were holed up, with each side accusing the other of opening fire, officials and Islamists said.
The siege of the Al-Fath mosque in the Ramsis area came at the end of a day of clashes between security forces and supporters of ousted president Mohamed Morsi that left over 80 people dead.
A demonstrator inside the mosque said soldiers offered to evacuate the women but insisted on questioning the men, which the protesters refused.
Security officials quoted by the official MENA news agency said "armed elements are shooting security forces and police from inside the mosque."
But Morsi's Freedom and Justice Party (FJP) appealed for the prevention of another "massacre" after 578 people were killed nationwide on Wednesday when police cleared protest camps set up by Morsi loyalists.
The protester inside the mosque who spoke to AFP said there were almost 1,000 people holed up in the house of worship.
"The gunfire has ended," she said. "Thugs tried to storm the mosque but the men barricaded the doors."
It was not clear whom she meant by "thugs."
The mosque had held over 20 bodies of people killed in clashes earlier in the day, witnesses said.
All but one had been removed by the time security forces surrounded the mosque, according to the protester who spoke to AFP.