SADA Boss Must Go – Northern Youth Insists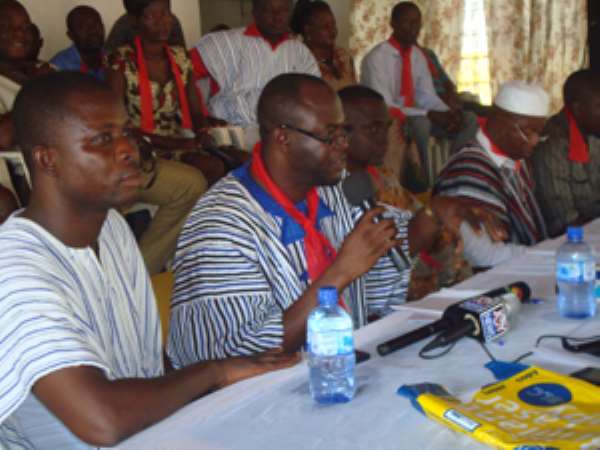 Some member of the Coalition at one of their Press Conferences
Some people have argued that the police would stop the
demonstration meant to compel the President to address the 'deliberate' misappropriation of funds meant for the development of the North to benefit the poor.
The President of the Northern Patriots in Research and Advocacy, Bismarck Adongo Ayorogo, who represents the Coalition in the Upper East Region, in a statement, said nothing would stop the demonstration on August 15, 2013.
Similar protests would be organized by the Coalition of Northern Youth Groups in Tamale and Wa on August 13 and19 respectively.
In July, this year, representatives of youth groups under the
Coalition from Northern, Upper East and Upper West regions, held a press conference in Bolgatanga and leveled allegations against the SADA boss, Gilbert Iddi.
They called for his dismissal and the dissolution of the Board for failing to prevent some 'fraudulent' expenditure.
Since that time there has not been any tangible action or comment from the President or Minister of State to deny the accusations or call for evidence, the coalition said.
In line with this, the coalition decided to launch the second phase of the plan to save SADA.
Bismarck Ayorogo said government owes Ghanaians, especially those in the savanna areas, some explanation as to why Alhaji Gilbert Iddi is still in office.
SADA, led by Alhaji Iddi, claimed to have spent a total of GH¢170,000 on an internet connectivity project, but there are no internet connectivity to match the expenditure, according to the coalition.
Mr. Ayorogo said another document exposed the reckless expenditure amounting to GH¢600,000.
Explaining further, Mr Ayorogo said the peaceful demonstration would not affect the final verdict of Supreme Court.
'The Police are aware that we have always had peaceful demonstrations and this one will not be different. It will be peaceful and so nothing should stop us from coming out to express our feelings and disappointment in government for keeping quiet over this issue,' Mr. Ayorogo noted.
 From: Ebo Bruce-Quansah, Bolgatanga