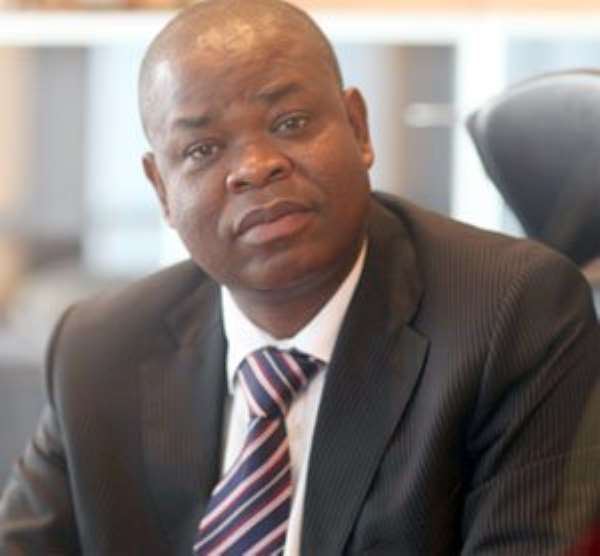 Kone Katinan Justin
THE OSU District Court will deliver its ruling on the extradition case involving Justine Kone Katinan, the former Ivorian Minister on August 30.
The court presided over by Aboagye Tandoh, slated the said date after the Chief State Attorney, Mathew Amponsah, announced that they have filed their address as ordered by the court.
The ruling was earlier scheduled for August 7, 2013. However, on the said date, Mr Amponsah filed an application arresting the judgment on grounds that they have not been able to meet the deadline of filing their address.
According to the prosecutor, they needed the time to respond to certain relevant issues raised by the defence in their address and this was granted by the court.
The judge who currently works in a smaller office due to the rehabilitation of the court by the Osu Traditional Council for the installation of a new chief, hoped to deliver the judgment on the said date in a more comfortable courtroom.
He commended the council for the renovation works after observing that it was a good thing.
Mr Aboagye Tandoh who has been promoted to the Circuit Court stated that 'it's been nice working at the Osu Court.'
Obeng Sakyi, counsel for Katinan, congratulated the judge for being promoted and also commended him for working under such uncomfortable condition with zeal.
Mr Katinan is facing 20 counts of conspiracy to commit crime and robbery.
The prosecution led by Chief State Attorney, Mathew Amponsah, alleged that Katinan conspired with some allies of Laurent Gbagbo, former Ivorian President, to loot public and government funds to a tune of CFA 348 billion equivalent to $680million.
The ex-minister and the allies, mostly military men, reportedly took advantage of the post-election serious violence in La Côte d'Ivoire and robbed eight financial institutions to assist Laurent Gbagbo who had disputed the election results to survive.
The prosecution, in their case, stated that the ex-minister directed and took active part in these robberies and that according to eyewitnesses' reports; Mr Katinan was personally present during the attacks using his position to force and persuade managers to co-operate with the armed robbers.
However, Katinan has denied conspiring with other people to rob banks alleging that the charges were politically-motivated.
Describing the allegation as false, Mr Katinan stated that he would have required 2,000 large bags or 15 forty footer containers to carry an amount of CFA 348 billion, equivalent to $680 million he is alleged to have robbed.
Katinan stated that the Ivorian government had pressed charges of robbery against him because he defended Gbagbo during the election crisis.
The ex-minister was arrested on August 24, 2012 at the Kotoka International Airport while returning from South Africa following a request from the Ivorian government for him to be extradited to face trial on the robbery charges.
Justin holds a refugee card from the Ghana Refugee Board which is also recognized by the UNHCR..
By Mary Anane