Le Clos picks up week's second World Cup win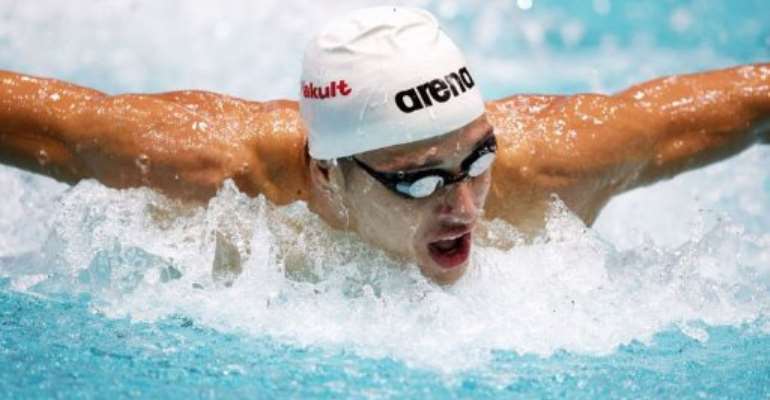 BERLIN (AFP) - South Africa's Olympic and world champion Chad le Clos claimed his second World Cup win of the week on Saturday with victory in the men's 200m butterfly final in Berlin.
The 21-year-old, who shot to fame by beating Michael Phelps in the 200m fly final at last year's London Olympics, set the event's short-course world record in Eindhoven (1:49.04) on Wednesday.
Le Clos won both the 100 and 200m butterfly golds at Barcelona's world championships, which finished last Sunday before the World Cup series kicked off in Eindhoven, the Netherlands, on Wednesday then continuing in the German capital this weekend.
Le Clos had to dig deep in Berlin as he clocked 1min 49.90secs in the 200m final with Poland's Pawel Korzeniowski second at 0.53sec back and Japan's Daiya Seto adrift at 1.06 in third.
Over the shorter sprint distance, Le Clos, who added the world title to his Olympic crown in the 200m fly at the world championships last week, then finished third in the 50m final behind compatriot Roland Schoeman.
With Le Clos also swimming the 100m fly and 200m individual medley on Sunday, he admitted racing two World Cup meets in a week, straight after the world championships, was taking its toll.
"I'm happy with the time and nice to get another win (in the 100m fly final) under the belt," Le Clos told AFP.
"It's been a great couple of days, I've got a couple of events to come and then I get about 10 days off.
"Everyone is in the same boat, it's been a pretty tiring week.
"I was up at 5am on Friday to get the train from Eindhoven to Berlin, so it's been a really busy few days after the worlds."
Australia's world champion James Magnussen had to settle for second in the men's 100m freestyle final as he finished 0.3secs behind winner Vladimir Morozov of Russia, the 50m freestyle world silver medallist in Barcelona.
The 21-year-old Magnuseen, who defended his 100m title in Barcelona, will race again on Sunday in the 50m freestyle.
Spain's Mireia Belmonte, who won world silvers over 200m fly and 400m IM in Barcelona, broke the world short-course record in the women's 800m freestyle final.
Belmonte clocked 7mins 59.34secs, with New Zealand's Lauren Boyle came second and Denmark's Lotte Friis finished third.