Tsvangirai party alleges 'disturbing' vote anomalies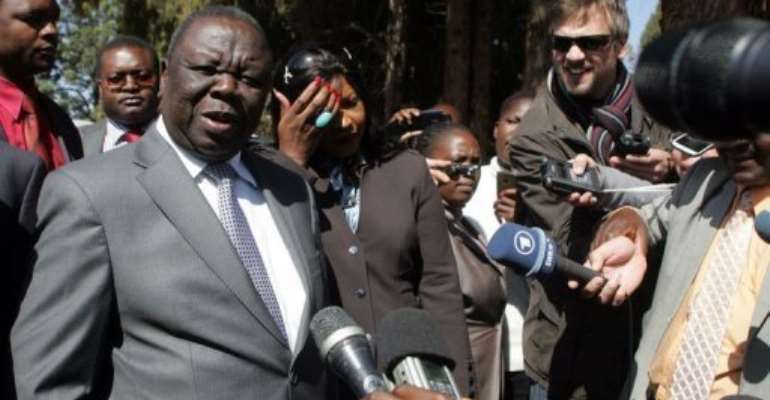 HARARE (AFP) - Prime Minister Morgan Tsvangirai's party on Wednesday listed a battery of irregularities -- including two million of dead people on the voters' roll -- in Zimbabwe's fiercely contested general elections.
"The greatest worry we have is the number of people that are being turned away," Finance Minister Tendai Biti, a senior member of the Movement for Democratic Change (MDC), told reporters.
He deplored mistakes on the voters' roll, which still included the names of dead people, did not list others and assigned many to the wrong polling stations.
The Zimbabwe Electoral Commission (ZEC) had discussed the mistakes in a meeting, he said.
"They are admitting that there's still two million people who are dead on the voters' roll, but they said because they're dead, they can't vote."
"Thousands and thousands of people are being disenfranchised by virtue of not finding their names on the voters' roll," Biti added.
At one polling station in the capital Harare, only 260 people had voted by midday, and 130 had been turned away, he said.
The late release of the voters' register -- less than 24 hours before balloting began -- also confused the electorate, he said.
"If the voters' roll had been provided to people (earlier) ... people would have checked (their names) and avoided the current fiasco," Biti said.
In some instances polling stations had even been placed in wrong areas, he added.
He further alleged that a parliamentary candidate for President Robert Mugabe's ZANU-PF had distributed around 6,.000 fake voter registration slips.
The slips give the bearer the right to vote regardless of whether their name appears on the voters' roll.
In rural areas literate voters, including schoolteachers, were being told to claim illiteracy so they could be helped to mark their ballots.
"So all along you are literate but when you go into the polling station you are suddenly illiterate," said Biti outraged.
The MDC further alleged numbers had been inflated for security forces who voted early on July 14 and 15.
As finance minister, Biti said he knew their true strength since he paid their salaries.
"This election ... was already marred by illegality after illegality," he said.
But he was still upbeat on the MDC's chances.
"We are very sure that despite all these challenges, despite all these shenanigans, history will not be stolen, the people's victor will not be stolen and that this election today will deliver change and real transformation."