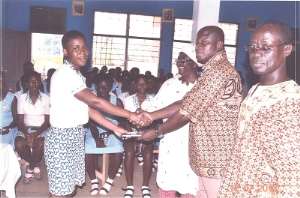 A Non-Governmental Organisation (NGO), Marshallan Relief and Development Services (MAREDES), is supporting girl-child education initiatives in the country.
As a first step, the NGO is  presenting sets of mathematical instruments to girls to encourage them both psychologically and practically to pursue mathematics education.
MAREDES, with its headquarters in Sekondi in the Western Region, is a registered NGO of the Knights and Ladies of Marshall, a Catholic friendly society devoted to charitable work.
The first presentation of sets of mathematical instruments was made to the St. Mary's Girls Senior High School at a short but impressive ceremony at the school at Konongo.
Making the presentation on behalf of the Board of Directors of MAREDES, Mr Fabien Belieb, Regional Grand Knight of Ashanti and Denkyira of the Knight of Marshall, said the NGO  was established to further the charitable objectives of the society and also to undertake other human development activities, including public policy advocacy.
He noted that  MAREDES had previously undertaken other development interventions, especially in the area of relief and disaster response in the Bunkpurugu Yunyoo inter-ethnic clashes in 2012.
Mr Belieb said this year,  the board decided to focus on supporting girl-child education initiatives including mathematics education, because it was its belief that mathematics could open a wide range of opportunities to girls to reach enviable heights in the social, academic and professional arenas.
He stressed that the board also saw that mathematics was a great tool for mental alertness, analysis and scientific discovery.
The Regional Grand Knight said the MARCEDES was supported by ECOBANK and the Knights and Ladies of Marshall in that great undertaking, and that over 2,000 girls would receive support this year.
He advised the students not to allow anybody or any situation to put them down, stressing, 'ignore the stereotypes that society may put on you, step out and aim high and you can make it'
Mr Awudu Mohammed, a representative of ECOBANK, commended the NGO for the  positive strides, which, he said, was  in the right direction and would go a long way to improve the capabilities of the students in the subject.
The headmistress of the school, Madam Theresa Badu Senyah, thanked the NGO for its wonderful efforts and expressed the belief that it would go a long way to motivate the students to be interested in mathematics.
By Nana Yaw Barimah/Daily Graphic/Ghana