July 19, 2013
|
General News
Traders Kick Against Imposition Of 20% Tax On Mobile Phones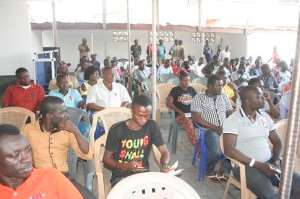 The Association of Mobile Phone Importers and Traders have called on the government to take a second look at the imposition of the twenty per cent (20%) tax that was recently imposed on the importation of mobile phones and accessories at various entry points of the country, since it would place much burden on the consumer and increase unemployment.
The import tax came as a shock to many businesses. According to the Secretary of the Association, Mr. Simon Frinkoh, the imposition of the tax would have negative implication on the over 103,000 direct and indirect employments in the communication sector.
Addressing a press conference in Accra yesterday, Mr. Frinkoh warned that the 20 per cent tax introduction would aid cross border smuggling of mobile phones which would in effect, affect revenue generation by the government.
Parliament, a fortnight ago, granted the request of the government after adoption and subsequent passage of the Report of the Finance Committee on the Special Import Levy Bill.
Initiators of the Bill had argued that due to the funding gap in the country's 2013 Budget, totaling GH¢8 billion, there was the need to identify other avenues for revenue generation to help mobilise funds and to finance the funding gap, in order to reduce the budget deficit.
The items to be levied include outboard motors, fishing nets, agricultural machinery, diary milking machines, clubs and arrows, cutlasses, as well as mobile phones and its accessories.
But the Secretary of the Association indicated that imposition of the taxes would not only have negative impact on the importers and traders, but on consumers in general.
'It our concern that this tax would have negative impact on our business and invariably affect employment within the industry, which is made up of over 3,000 importers generating direct employment for over 100,000 traders, and indirectly to thousands of others who deal in mobile products, in one way or the other, within the value chain,' he noted.
He said due to the waiver of taxes on mobile phones and telephones some few years ago, mobile phone manufacturing giants like Nokia, LG, iPhone, Blackberry, Samsung, Huawei and Sony have chosen Ghana as West Africa's sub-regional hub for operation and distribution.
'This has clearly put Ghana in pole position in the telecommunication sector, as compared to the other West African countries,' he said.
He observed that the imposition of the 20% tax would pave the way for the influx of inferior phones on the market, with quality products also becoming too expensive to consumers.
The Association, therefore, pleaded with the government to remove the tax, while concentrating on the talk tax.
"Whilst we truly understand the revenue shortfall in the fiscal budget, we fully committed to help the government but we humbly appeal to the President to review the decision on the 20% import duty on mobile phones and its accessories,' the traders pleaded.