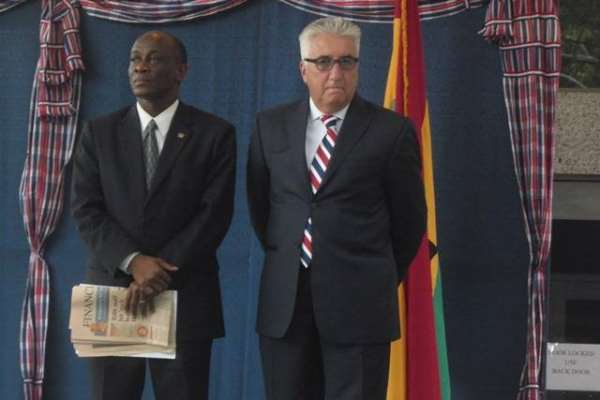 fin1
fin1
Accra, June 28, GNA - The Embassy of the United States of America (USA) in Ghana on Thursday held a reception in Accra to mark the 237th Independence Day Anniversary of the United States.
 
Speaking at the ceremony, U.S. Ambassador to Ghana, Gene A. Cretz,  said it was true that his home country pursues its interests, as all other nations do, but changing lives and saving lives was at the core of the U.S. mission in Ghana.
 
He said the potential for development in Ghana was extraordinary and that each programme built on that potential, adding that the US Government's Partnership for Growth initiative  had made the overarching notion of partnership central to their development strategy.
 
Ambassador Cretz noted that in Ghana the area of partnership covered free distribution of insecticide treated mosquito nets, Peace Corps Volunteering, and capacity development for the armed forces, among others.
 
He said other priority areas which were of long term, included the support for the American Chamber of Commerce Ghana link business partners in both countries, multi-year US investments to increase productivity in agriculture, combating the sale of counterfeit medications, improving childhood nutrition, and increasing private sector investment in sanitation, power supply and agriculture.
 
He said the Embassy was working with the Ghana Education Service to measure students' progress as they learnt to read, in addition to assisting Ghana's health providers in their work to detect and treat diseases.
 
'Whatever we do together, it is important that we report results on our activities so that governments, citizens, and broader civil society can know that our partnership is well-thought-out and that donor funds are wisely used,' Ambassador Cretz stated.
 
He said President Barak Obama's second visit to Sub-Saharan Africa underscored the value the U.S. Government placed on fostering stronger ties with Africa.
 
Mr Seth Terkper, Minister of Finance and Economic Planning on behalf of the Government and people of Ghana extended hearty congratulations to the Government and people of the United States on that country's 237th independence anniversary.
 
He was grateful to the US Government for the various forms of assistance it extended to Ghana over the years.
 
The Finance Minister said Ghana needed energy and major infrastructure for development, adding that: 'We are not oblivious of the International Finance Corporation's recent million loan to the Takoradi International Company to help its gas-fired Takoradi Two power plant.
 
He acknowledged the construction of the George Walker Bush N1 Highway as part of the 7 million first Millennium Challenge Corporation (MCC) Compact which had enhanced the export and importation of goods.
 
'We are even more delighted for the selection of Ghana for eligibility for the MCC Compact Two, to focus on the energy sector, as well as for .7 billion support package for commercial projects, including water, sanitation and healthcare in the country,' he said.
 
Mr Terkper said Ghana was committed to fighting transitional crime such as illicit drug trafficking and terrorism.
 
Dignitaries who graced the function included former First Lady Nana Konadu Agyeman-Rawlings; Madam Hannah Tetteh, Minister of Foreign Affairs and Regional Integration; Mr Fiifi Kwetey, Minister incharge of Financial and Allied Institutions at the Presidency; Dr Mahamudu Bawumia, Vice Presidential Candidate of the New Patriotic Party in the 2012 general election; Dr Bernard Otabil, Chief Executive Officer of the Ghana News Agency, and members of the Diplomatic Corps. 
 
 
 caption:
 
Mr Seth Terkper, Minister of Finance and Economic Planning and
U.S. Ambassador to Ghana, Gene A. Cretz
 
 
GNA