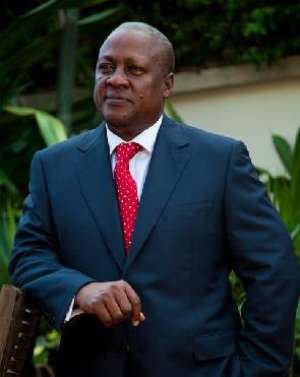 John Dramani Mahama, Ghana President
If you ask me about the state of Ghana right now I will tell you 'SICK'. When Mills came to power and Muntaka was made the sports minister a whistle blower leaked info of tax payers monies been misused which lead to his resignation and instead of rewarding the whistle blower he was sacked from his post. When Mahama took over and went on to win the elections info leaked that GIPC supported his candidature via VFM ie 'Vote For Mahama' to become president due to that the then CEO of GIPC resigned on principle but the president in his vindictive nature never left the matter.
A lady called Gloria Agyepong was picked up by BNI from the offices of GIPC since Thursday for mistakenly taken pictures of a memo and is been interrogated under duress to admit to the Ishmeal Yamson/Goerge Aboagye scandel.
My questions are 1. what is in that memo 2. What is komla Dumor's sister afraid of 3. Why is she using the BNI to cover up. 4. She took the pictures so what 5. Is Mahama the dictator part of this? I've always known that darkness has always concurred light maybe that's why she is still in the custody of the BNI.
I ask myself why is the president refusing to facilitate the passage of the freedom of information bill? On Friday March 22, 2013 in a meeting with journalists at the Flagstaff house, President Mahama said ' I have no fear of the right to information bill it's not a monster and I think Parliament should pass it. NONSENSE
You drive around town and all you see is policemen sitting under mango trees with guns, I ask myself are we in a police state, what the hell is the president afraid of, his own shadow or what?
You can't even share funny pictures on your facebook wall anymore.
I believe politicians think we the citizens are fools if not why should dey look straight into the camera lenses and lie all the time.
Our journalist should look deep into this GIPC matter and tell us what MAWUENA DUMOR is hiding from Ghanaians since they are the watchdogs we can count on.
Fire The Ordinary Ghanaian!