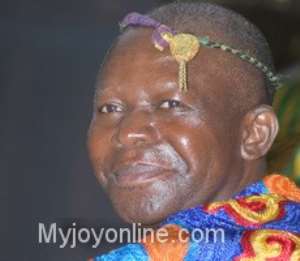 The Asantehene, Otumfuo Osei Tutu II has urged President John Dramani Mahama to remain focused and work in the interest of Ghanaians despite the ongoing Presidential Election Petition case before the Supreme Court which is challenging his legitimacy.
The Ashanti King gave the advice when he paid a courtesy call on the president at the Flagstaff House in Accra Friday.
Otumfuo Osei Tutu II is in Accra to address a lecture on democracy. The lecture is under the auspices of the National Commission on Civic Education (NCCE) as part of activities to mark the 20th anniversary of the Fourth Republic.
Commenting on the Presidential Election Petition, Otumfuo said the court case must not be seen as an affront to the Constitution because it will help deepen Ghana's growing democracy.
He commended the petitioners for not resorting to violence after the 2012 election but rather went to court to seek redress.
Otumfuo Osei Tutu II expressed confidence in the Justices sitting on the case to give a fair trial.
Notwithstanding, the Ashanti King reminded President Mahama not to allow the court case to distract him from solving the problems confronting the nation.
Otumfuo said he [Mahama] is the Commander in terms of driving the nation to its destination and thus must not be seen to be shirking his responsibilities.
He said even if the court case does not go in his [Mahama's] favour, he would have contributed his quota to national development.
Otumfuo Osei Tutu II assured President Mahama of his unflinching support and wise counsel when needed to ensure the country remains united.