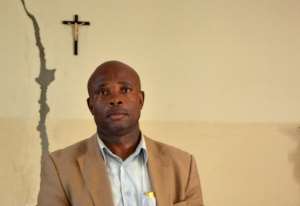 Emmanuel Mba Bekale speaks about the unexplained death of his daughter, in Libreville, on October 26, 2012. By Patrick Fort (AFP/File)
LIBREVILLE (AFP) - The discovery of a young girl's body on a Libreville beach last month shocked the city and reignited the debate over ritual killings in Gabon, sparking outrage on social media sites and forcing President Ali Bongo Ondimba to react.
The young girl disappeared after going swimming. Her battered body was discovered the next day, several hundred metres away.
Her body was badly mutilated, and while there's no proof she was the victim of a ritual killing, the fear of such crimes here has led to her case being widely publicised.
Ritual crimes are practised by secret sects involved in witchcraft. They usually involve taking a victim's blood and certain parts of their body -- eyes, eyelashes, ears, genitalia, tongue, lips, pieces of skin, the brain -- which are supposed to bring health, riches, success and power.
"It's getting worse. We've already counted 19 cases since the start of the year", including 10 children, says Jean-Elvis Ebang Ondo, the president and founder of the Association against Ritual Crime (ALCR). His own 12-year-old son was kidnapped, killed and mutilated in 2005.
ALCR's most recent report, which covers four provinces, found 34 cases in 2010 and 62 in 2011. The majority were children -- the most sought-after victims in this kind of crime.
The police don't recognise these statistics, however, considering that some of these deaths are not related to ritual crime.
Despite the fact that without an autopsy it is impossible to prove whether or not they are ritual killings, grisly murders regularly make the front page of the papers. The reports stir up anger at what people see as the authorities' failure to act.
The situation was further inflamed recently when a planned protest march was banned.
Soon afterwards, hackers claiming to be from Anonymous published a video containing shocking images of mutilated bodies and organs, a campaign -- christened Operation Gabon -- spread across Twitter with followers using the hastags #OpGabon and #SOSGabon to denounce ritual crime. Activist site Avaaz.org started a petition, "Stop ritual crime in Gabon".
The unprecedented level of attention embarrassed the Gabonese government and pushed President Bongo to react.
In a statement, he spoke of the presidency's "preoccupation" with the "ignoble phenomenon of crime", although the phrase "ritual crime" did not appear at any point.
For their part, the ALCR says that those who order and commit these crimes operate with impunity. "People are distracted with show trials, but nobody has ever actually been sentenced", says Ebang Ondo.
According to him, numerous politicians and grandees are involved in ritual crime as they believe it will increase their power.
"The state doesn't want us to talk about it, because it's very important people who keep these practices alive, who feed on this", he said.
In October, Paris-based media rights group Reporters Without Borders denounced the "increase in pressure on journalists" from Gabon who were investigating ritual crime and its links to the political milieu.
One recent move, however, appeared to be in the right direction, when a senator accused of having ordered a ritual crime had his parliamentary immunity revoked, meaning that it is now possible for him to be questioned over the murder of a 12-year-old girl in 2009.
"We're still waiting, " said ALCR chief Ebang Ondo.