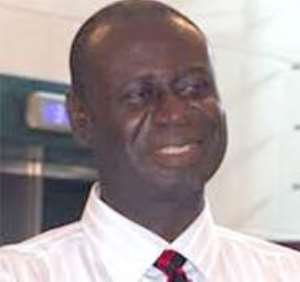 Cape coast, April 8, GNA - The Central Regional Minister Mr. Samuel Sarpong on Sunday called on Ghanaians to leave behind them the 'tension' created by the December 2012 elections in order to forge ahead with the nation's development.
He said though the nation went through a peaceful and incident free elections, there still seemed to be uneasy tension in the political atmosphere and urged that people should not allow politics and elections divide the nation.
Mr Sarpong said this when he participated in the National Prayer and  Thanksgiving Service held at the Ebenezer Presbyterian Church in Cape Coast as part of activities to mark the 56 Independence celebration.
The Service, which was attended by heads of departments, chiefs and queen mothers, party supporters and a cross section of the public, was on the theme: "The People that do Know God Shall be Strong and do Exploits" (Daniel 11:32).
The Regional Minister said Ghana was a blessed and privileged nation as compared to other nations in the West African sub region and urged that all should help maintain the prevailing peace in the country and not take it for granted.
Mr Sarpong said no nation could effectively implement its development programmes and polices if there was no peace, unity and cooperation and stressed that it was important for Ghanaians to become more united than before because of its democratic laurels in the sub-Saharan African.
He also used the occasion to announce his assumption of duty in the region and called for cooperation and support of all particularly chiefs and the district assemblies.
In a sermon, the head pastor of the Church, Reverend Timothy Annoh said 56 years of a nation's existence was remarkable landmark and it was important for all to put their hands on deck to move the nation to a higher pedestal, adding that 'Ghana has written its history which would be read by all in the future'.
He urged Christians to take their religious lives more seriously and remain resolute in serving the Lord.
He congratulated Mr Sarpong on his appointment as the Central Regional Minister and called on all to give him (Minister) the needed support and cooperation that would enable him to effectively serve the country and the region in particular.
Rev. Annoh urged the Church to remember President John Dramani Mahama in their prayers since he believes it was God who crowns a leader, adding that Ghana is a nation of peace and that everyone should get involved in maintaining the peace in the country.
The Regional Minister on behalf of the President donated an amount of GH¢2,000.00 to the Church.
 
GNA