United Nations Secretary-General Calls On All To Use The Power Of Sport To Fight Racism
As We Mark International Day For The Elimination Of Racial Discrimination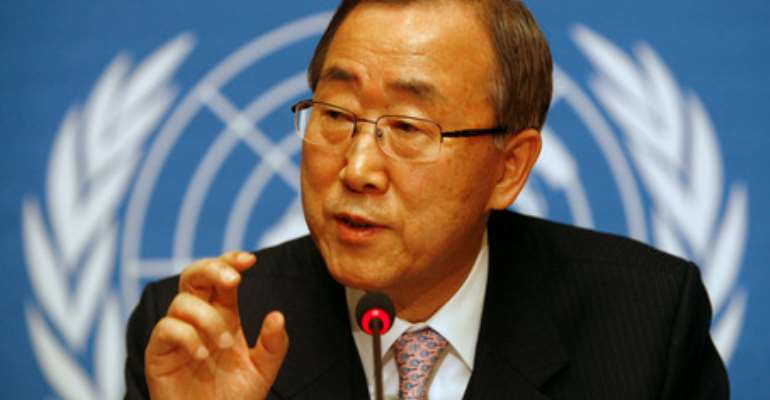 ACCRA, 20 March, 2013 –The United Nations is calling on countries to recommit to ending racial discrimination to realize our vision of justice, equality and freedom from fear for all. It warns that despite progress made over the years in the struggle against racism, it remains a pervasive menace to individuals and ethnic and religious groups worldwide.
As the world marks International Day for the Elimination of Racial Discrimination, which falls on March 21, this year, the United Nations is focusing on the power of sport to end the blight of racism. The choice of sport as an activity or a channel to fight racism is to highlight the sharp contrast between the positive values of sports and the "despicable incidents of racism that scar even some professional competitions" says Ban K-moon in a message to mark the Day.
The theme "Racism and Sport" was chosen by the UN Human Rights Office to highlight the problem of racism in sports, which remains a disturbing occurrence in many parts of the world, as well as to raise awareness of the role sports can play in combating racism and racial discrimination.
According to the UN Secretary-General, "sport is a universal activity that can reaffirm our fundamental human rights. Combating racism lies at the heart of the United Nations Charter and the international community has an obligation to work for equality and non-discrimination, and can advance progress by promoting these values through sports".
A special event will take place in Geneva on 21 March and will feature two football stars: Kevin-Prince Boateng (German-Ghanaian player for AC Milan) and Patrick Vieira (French-Senegalese player, now with the Manchester City Football Club).
The panel discussion will also include representatives of UEFA (William Gaillard) and FIFA (Federico Addiechi) as well as Ambassador Mohamed Siad Douale (Chairperson of the Inter-Governmental Working Group on the Effective Implementation of the Durban Declaration and Programme of Action) and Piara Powar, Executive Director of the FARE (Football Against Racism in Europe) Network.
On March 21 each year, the horrors of the March 21, 1960 Sharpeville, South Africa massacre is remembered to mark the International Day for the Elimination of Racial Discrimination.
According to the UN High Commissioner for Human Rights, Ms Navi Pillay, "the massacre in Sharpeville represents a much wider tragedy: we mark its anniversary to remember also the millions of people around the world who are still, today, victims of racism and racial discrimination."
You may visit http://www.un.org/en/events/racialdiscriminationday/ for further information on the Day.