Spiritual Leader Predicts More Disasters Ahead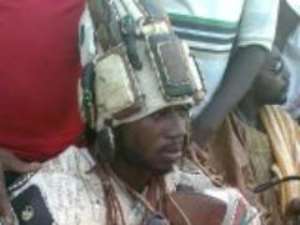 Spiritual leader of the Kejebi Shrine, Chief Naatia Salifu at Sagnarigu, has called for national fasting and prayer to prevent Ghana from being hit by more infernos.
Naatia, who is well noted for his predictions on national issues, indicated that the nation needed total cleansing.
According to him, some politicians ahead of the 2012 elections made some damning sacrifices of which consequential effects are the rainstorms and fire disasters that have destroyed lives and property across the nation.
He spoke to Citi News in an interview saying, "During the election period some politicians did a lot of sacrifices which are having negative effects on us today and that is why I am calling for national prayers to stop the calamities."
He insisted "some politicians during the just 2012 elections resorted to some inhumane acts which angered our gods and so we need to appease the gods to guarantee our happiness".
Naatia therefore admonished religious leaders to intensify their prayers for God's mercy.
"As a spiritual leader I feel that we cannot sit down unconcerned and allow the misdeeds of those politicians to destroy our country and that is why I want all the religious leaders to join hands and pray for the nation," he said.
He commended government for declaring some parts of the Northern Region as disaster zone.
Following the severe rainstorms that hit some parts of the Northern Region, government declared Gushegu, Yendi and Tamale as disaster zones.