Election Petition: 500 NDC Members Join Case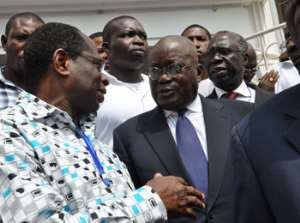 Akufo-Addo In Court
The landmark petition in which three leading members of the opposition New Patriotic Party (NPP) are challenging the declaration of John Dramani Mahama as President by the Electoral Commission (EC) in the December 7 and 8, 2012 general election is getting comical by the day, with over 500 people filing as joinders.
Since the court ordered the petitioners to furnish the respondents with 'further and better particulars', hundreds of National Democratic Congress (NDC) supporters have filed applications in droves to ask the highest court of the land to allow them to join the petition.
500 Joinders
As at yesterday close to 40 groups, comprising over 500 individuals of the ruling party's supporters, had filed at the Supreme Court Registry and there were fears that it could even be more.
The joinder applications by the NDC supporters are seen as a ploy to delay the court process.
As it is, if the highest court of the land allows them to join, the progress made so far in the case would be grounded to allow the applicants to file their answers to the petition.
Sources of Application
The first nine applications to hit the court's registry had the stamps of Urafiki Law Consult, Ghana Commercial Bank Main, 1st Floor, Near Meridian Hotel, Tema and it showed that they were all prepared from that chamber.
In the second batch of applications, they have the stamps of Deleric Law Consult, House No. 25 Watson Avenue, behind Holy Spirit Cathedral, Adabraka in Accra.
Intentions
A cursory look at all the applications would show that the applicants are initiating the action after the petitioners were made to provide details of all the polling stations where they claim irregularities or malpractices occurred.
To confirm the suspicion, all the applications state, "We are surprised to hear that the petitioners have in the present petition identified our polling station as one of those whose entire result should be annulled by the Honourable Court on ground stated in the said petition".
Strangely, the applicants who are again coming from different regions of the country have the same averments in their affidavits in support of the motions for joinder and they also have the same addresses as group members.
So far, 135 individuals, making 17 groups, have successfully filed their applications. Eighty individuals of nine groups filed last week and more are trooping to the court to join the case in a bizarre manner.