Adenta MP In The Grips Of The Law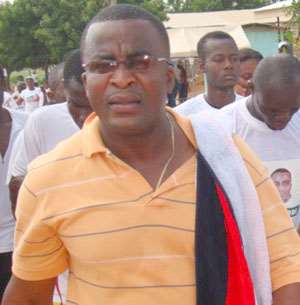 Adenta MP, Nii Ashie Moore
The newly elected Member of Parliament for Adentan, Emmanuel Nii Ashie Moore, has been made to cough up GH¢6,837.12 for failing to pay back a loan he contracted from a savings and loan company in Accra.
He took the money from First Allied Savings & Loans but defaulted in the payment, compelling the financial institution to seek the intervention of an Accra Circuit Court for the MP to pay back the amount.
Yesterday, at about 7am, bailiffs accompanied by armed policemen stormed the Adenta residence of the MP to carry out the court's order.
The law enforcers had targeted Mr. Ashie Moore's property including a BMW X5 Series (GN 6281 Z) and a Mercedes Benz (GS 2012 – 12), to defray the cost of the loan.
Sensing embarrassment, the MP paid the amount in cash before he was given respite.
However, his woes are not yet over as the court ordered that he should pay interest accruing from April 2012, as well as other incidental costs associated with the execution order.
In disposing of the case, the court, presided over by Ramaine Abele Abbey, also awarded GH¢300 cost against Mr. Ashie-Moore.
In preparation for the execution of the court's order, the First Deputy Judicial Secretary, John B. Nabarese, wrote to the police on February 19, 2013 notifying them of the intention of the 28th February Road (Cocoa Affairs) Court's Sheriff Officers to go into execution, per the Writ of Fifa issued on December 20, 2012.
The police, on February 22, 2013, accepted to go into execution and Director-General/Legal & Prosecutions ASP A.A Alichewu, in a letter, warned the officers sent out to effect the court's order "not to be directly involved in the execution but only to maintain law and order whilst officials of the court execute the order".