NCCE re-launches Project Citizen Ghana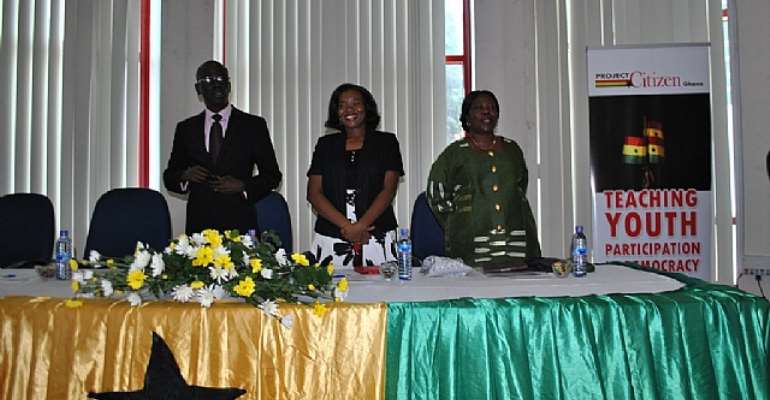 Accra, Feb. 26, GNA - The National Commission for Civic Education (NCCE) on Tuesday re-launched 'Project Citizen Ghana' to increase public awareness of the project that sought to increase citizenship and patriotism in Ghanaian students.
Project Citizen Ghana was adapted from a United States model and had been implemented by the NCCE   for the past five years. Hanns Seidel Foundation, a Germany based non-governmental organization, and Ghana Home Loans and Coca Cola Company are sponsoring the project.
Mrs Augustine Akumanyi, Deputy Director in charge of Operations, NCCE, explained that the project was aimed at training the youth to be active and to engage citizens in important issues that would benefit their communities and the nation as a whole.
She said the project also fell within the mandate of the Commission, as ascribed in the 1992 Constitution to educate the Ghanaian citizens on their civic rights and responsibilities.
Mrs Akumanyi said it was being re-launched to increase public awareness of its existence and also to inaugurate an advisory board of patrons as well as an alumni made up of past students who have participated in the project while in Junior and Senior High schools.
Mrs Dora Hammond, Deputy Director of Programmes, NCCE, said 195 schools, including two schools of the blind and three schools of the deaf, are currently participating in the project, which mainly train students in the various NCCE clubs in schools scattered around the country on certain national issues.
She said schools were allowed to scout their communities to come out with any social issues such as sanitation, teenage pregnancy, drug abuse, road clashes and elections and make proposals as to how best such issues could be tackled for national development.
She explained that in the USA, civic education was being studied as part of the school's curriculum just as it used to be done here in Ghana in the 1980s but due to changes in Ghana's school curriculum, 'we are no more doing that.'
Mrs Hammond said most of the students who had benefited from the project had acquired various skills that had enabled them to come out with many solutions to national issues. 'It was students who suggested the use of biometric voting five years ago. We thought it was impossible- but it became possible and was used it in the recent general elections.'
Mr Albert Ocran, Chief Executive Officer, Combert Impressions, who inaugurated the Patrons and the alumni group, urged students to strive to make significant impact on the country, be inquisitive and ask relevant questions, and be 'hungry for success trhough their determination and hard work.
He also charged them to learn to take opportunities and become people of integrity who eschewed corrupt practices, consistent and committed to the values they stood for and to strive for excellence at all times.
  GNA