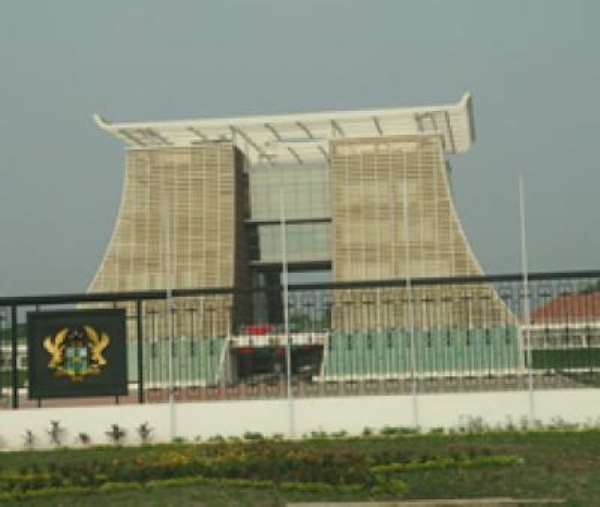 Friday night 8pm, I am looking for a taxi to get into Accra. I live on McCarthy Hill and sometimes I do not feel like driving into the city. Standing by the side, a trotro curb-stops and a young woman, maybe 28, gets down with a child on her back and another in tow.
She makes sure to mention to the "aplanke" that she has luggage in the back. With the child balanced securely, she takes out two bunches of plantain, a sack full of cassava, and a basket of other food items.
She then hauls all these and a carry bag to the side with the help of her six-year-old and starts the hassle for another trotro to take her to Lapaz. She carefully counts the agreed fare and I shudder with guilt.
Her fare from Kasoa is one cedi eighty pesewas, protected in her white "religious" handkerchief. She can't afford to lose a pesewa of this money. The taxis are asking for twenty cedis to go to Accra, a fare that used to be ten. I abandon my two-hundred-cedi expenditure program, uncomfortable with the disparity in our spending priorities, and turn back home. This defined the State of my Nation.
For former AG Martin Amidu, who has raised a lot of red flags these past two years, and the last one cost him his job, not for incompetence, but for disrespect, he waded into the Woyome case he filed, emphasizing the conflict of interest he clearly sees from the new attorney general appointment. Not that Marietta Brew Oppong is not qualified, she was one of a team that sued Government to recover money for a company that did not exist.
Now she has to turn around and prosecute the same client for recovery of monies and probably fraud. How do you do that? This is a sizeable figure and a case that threatens our national moral compass. How would we handle this in our traditional context?
It prompted "Tarzan" Wereko-Brobbey to wade into the fray and advise that Marietta Brew Oppong lose her job. He is on a bit of a crusade these days. On air and in the paper every week, taking it to the energy technocrats and Institutional heads, making a case for rationalising the energy supply. He knows enough about the sector to be credible and we only hope that he continues with the pressure on Government.
VRA, ECG and GWSC are struggling because of the under-investment over the years and Government's inability to pay what it owes the trio. No need to go back and do a blame game, but what about looking ahead and sorting out the cash mess?
If VRA is paid, it will have enough to buy crude in the interim and supply some energy. Follow the money trail. Government owes the institutions and that is why we are in this so called emergency load shedding, suddenly in our face, immediately after the elections.
Somebody pulled the blinds down at Flagstaff house, triggering an eclipse on finance and good governance. In his state of the nation, President Mahama neither acknowledged nor mentioned the fact that his presidency is under a legal cloud, threatened by an NPP petition hailstorm. We have had so little rain these few months and a bare harmattan. It is hot in Accra and very humid. I can't afford to use air conditioning, not because I can't afford it, but there is so much uncertainty surrounding everything and the pleasure of cooling the room is enveloped by a gloomy demeanor in the house. We go to bed every night wondering if this petition will tip the country over the edge or propel us to a new democracy high.
It was very disingenuous of the President in his State of the Nation address to think that we of Ghana are not aware that there is a legal possibility that his term could be very short-lived. We are on tenterhooks because of this case and Paa Kwesi Amissah Arthur was at least open enough to answer the question in Freetown.
I am not really concerned about what the President said or not with his State of the Nation address. I am disturbed by the fact that he either thinks we cannot fathom the Nation's state, and we will only dwell on how he sees it from behind his office blinds or we should be more concerned about the format of the address. In Freetown, Sierra Leone, Vice Prez Paa Kwesi, made categorical statements about the petition challenge. He even went as far as revel in the fact that it is a defining moment in our democracy and he was proud to tout the process as one of sanity and excellent conflict resolution.
But not John Mahama, he refuses to acknowledge this state, rather turning restlessly in bed, worrying about dumso and water problems, in a speech that could have been written for him by Johnson Asiedu Nketia. Praising the Electoral Commissioner indeed.
We have made water, power, sanitation, education and jobs, colossal problems. Played political games with tariffs and subsidies over the years and now the elephant is rampaging largest in our courtrooms.
Where is the determination to re-evaluate our electoral representation and our rights to free speech and information? How much longer should Parliament be distorted because the Volta Region represents the NDC and the Ashanti Region the NPP? I see a blemish in representation and a foremost concern requiring change.
The state of my nation is hinged on the petition challenge, graduate unemployment, revenue enhancement, my freedom of speech and transparent access to information. I am certainly concerned with all the issues raised as well, but those are not what keep me awake at night.
Why? Because Government can sort the energy and water crises out by paying these institutions what it owes and providing financial support to invest in key infrastructure to enable better and guaranteed access to these services. The dum-so would be over in the time it takes to get sufficient crude to VRA and don't forget TOR.
But let me borrow the opening paragraph from an article sent to me from the Danquah Institute regarding the petition. You can read the full piece from here, DI Petition Summary.
"The international community, generally, endorsed Ghana's 2012 general elections as "free and fair." Ghana, the star of democracy in Africa, had done it once again for Africa. John Mahama, the declared winner, was duly sworn in, without any violent protests, on January 7, 2013. But, the biggest opposition party in Ghana filed a petition in Ghana's supreme court, (the first of its kind in the country's history), challenging the presidential results.
It is noteworthy that since the first election of Ghana's Fourth Republic in 1992, 2012 was the only other time that a majority of the political parties (5 out of 7), which participated in the contest had come out to raise major concerns about the conduct of the polls. Indeed, the second runner-up and leader of the Progressive People's Party, Dr Papa Kwesi Nduom, is on record as saying, "I have been involved in elections since 1992 and this is the worst in terms of credibility." See link: http://www.theafricareport.com/News-Analysis/ghana-election-results-another-party-backs-npp-fraud-claims.html. But, what really is the substance of the case of the opposition New Patriotic Party, which is contesting the results in court? Is it, as observed by a cynical senior figure in the UNDP, "another opposition party in Africa crying foul", or another defining moment in Ghana's history; a necessary non-violent, constitutional move, worthy of commendation, to correct and secure the integrity of elections, hence, the future of democracy, peace, stability and development in Africa?"
There is no one in this country, including donor partners and the World Bank community not aware of this challenge in the courts. I say JDM lost an opportunity to rise above the fray and stake his statesmanship. This "ostrich head in the sand" type politics is cheap and detracts from nobility. Every Ghanaian can see the conflict but not the Blinkards in Flagstaff House.
Paa Kwesi Amissah Arthur does not see that there are major constrictions in everyday living of the people of Ghana. All that is important is that we get more Foreign Direct Investment (FDI) and the macro-economic indicators. In a meeting with a EU delegation, he described what we have going in Ghana today as "minor challenges in the economy". Our trade deficit, shortfall in oil production, 91-day TB rates at 22.9%, excessive borrowing, burgeoning budget deficits, low revenue collection, major infrastructure gaps, housing deficits, non-existent commuter rail, electricity and water interruption and accumulating contractor debt both caused by Government's inability to pay its debts, petrol shortages in key regional capitals, poor sanitation for over 19% of the population in the capital city Accra who defecate in the open, high cost of food in the markets, our over-dependency on imports, a total collapse of our manufacturing sector and declining agriculture production and a national health scheme unable to meet payments on time, are not concerns.
Ghana cannot feed its people. We rely on donor aid to supplement most of our staples. Am I in a different country?
Well, Black Stars midfield player John Paintsil allegedly cut his wife over the eyebrow with a knife over the weekend. He is on bail. Not a nice note to end on, so Uncle Ebo Whyte has a new play starting at the National Theater and Ruff and Smooth just released their new video. Take a break, this has been a tough week, yet ……..
Ghana, Aha a ye de papa. Alius valde week advenio. Another great week to come!