Hockey: Rick Nash suffers from injury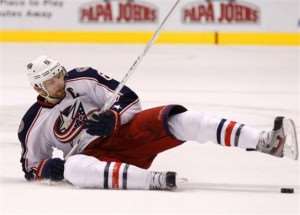 Nash was driven into the boards by Boston's Milan Lucic in a game last Tuesday, leading to speculation he's been dealing with a possible head injury or another problem stemming from that hit.
Rick Nash misses Tuesday night's game against the Canadians and will not be with the Rangers Thursday when they take on the Senators in Ottawa.
Rick Nash didn't accompany the Rangers to Ottawa for Thursday's game against the Senators, and John Tortorella is calling upon his top forwards to step up their games in the injured winger's absence.
'Everybody has injuries. We just have to play. Nash is a big part of our team and he's been a very good player for our team. But he's out,' Tortorella said after practice Wednesday in Greenburgh. 'With Nash out or not, we have some other guys — Brad Richards, Ryan Callahan, a number of people, even on the back end — that need to play better.'
The coach added after reviewing video Wednesday that he's 'trying to look at it as half-full,' noting the Blueshirts had managed points in their previous five games (4-0-1) even though he doesn't believe 'we have a good portion of our team playing consistently, with pace.'