Accra Pscychiatric Hospital owes suppliers more than GHC3.2 million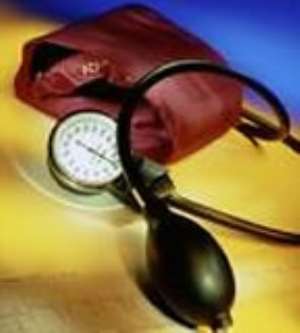 Health_alert
Accra , Feb. 19, GNA - Dr Akwasi Akoto Osei, Chief Psychiatrist, Accra Psychiatric Hospital (APH) on Tuesday noted that the facility  had become indebted to the tune of GH¢ 3.2 million to  suppliers especially food and chemicals.
This, he said, has compelled some of the Hospital's most reliable and loyal suppliers to cease their services and is threatening to institute legal action to collect their monies.
This was contained in a message read on his behalf by Dr Mrs Adwoa Pinaman Apau, a Specialist at the Hospital during a visit to the facility by Ms Sherry Ayittey, Minister of Health.
He called for immediate rehabilitation of the facility to make it able to render the needed crucial services to those who access it.
Dr Osei listed some of the problems of the Hospital as leaking roofs, broken down toilets facilities, horrible consulting rooms, whilst a huge proportion of the meagre resources available are spent on maintenance.
He noted that the hospital had witnessed a lot of instances whereby members of staff had lost their eyes, teeth, broken limbs and even death due to attacks on them by inmates.
'Yet the phrase 'risk allowance' is alien to our staff, who at every moment have to be looking over their shoulders and be alert to escape potential physical attacks by sometimes restless, anxious, and deluded patients, especially when there is no psychotropic drugs,' he said.
He called for the payment of differential wages in favour of health professionals working in mental health hospitals.
Dr Osei said the Hospital embarked on a decongestion exercise early this year, dubbed: 'Operation 600' which sent 600 cured patients back to their families at the expense of the facility.
He said with an inpatient population of more than 1,000, the medical employees were increasingly being over-worked due to the huge deficit in numbers.
'According to the International Labour Organisation, the nurses/patient ratio should be 1:4; however the ratio in this Hospital stands at 1:40.'
He said the inability of the Hospital to accommodate doctors and give them better conditions of service had compelled young doctors to shy away from psychiatry.
He expressed appreciation to individuals, groups and organisations for donating various items to the patients.
Ms Ayittey said following the passage of the Mental Health Act, government would soon establish the Mental Health Board to commence with the implementation of issues stipulated in the Act.
She said works would soon start on the expansion of Pantang Hospital to make it a referral hospital and convert APH into an Out Patient Department to help in the decongestion of mental hospitals across the country.
'This would also enable us to get enough space for playing grounds and resting places for patients,' she explained.
Ms Ayittey appealed to the public not to stigmatise people suffering from mental illness.
GNA