Apology To Okyehene Was Not From Us - Eastern Region NDC Remonstrates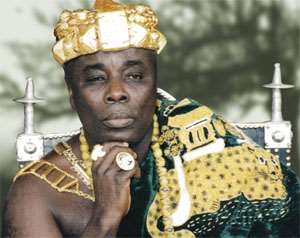 Okyehene Osagyefuo Amoatia Ofori Panin
Deputy Eastern Regional Secretary of the National Democratic Congress (NDC) Matthew Doe, has said the apology rendered to the Okyehene by the Former Eastern regional Minister, Ambassador Victor Smith, was not done on behalf of the Regional executives.
"He is not speaking for any of us….I was trying to get the deeper substance of the statement because the former Regional Minister never consulted any of the regional executives before rendering that apology," he stated.
Speaking on Eyewitness News, Mr. Doe said the petition was drafted without any malice as words used in the draft were chosen circumspectly and therefore saw no reason for apologies to be rendered.
"We did not see anything injurious that necessitated an apology. This was done without malice to anyone. We made sure that we were very circumspect in our diction and were very sure that the language in which the petition was drafted was not injurious to anybody. It showed reverence to the dignity and status of the Okyehene," he stated.
According to Mr. Doe, it is only after the regional executives meet that the next step will be taken concerning the reaction their petition got.
"The regional executives will meet soon to examine the aftermath of the petition sent before we will know the next step to take," he added.
The Eastern Regional Branch of the NDC last week accused the Okyehene, Osagyefo Amoatia Ofori Panin of being biased for calling on President John Mahama to eschew politics of insults and accept the ruling of the Supreme Court on the New Patriotic Party's (NPP) election petition.
According to the group, the Okeyehene should have first called the flagbearer of the NPP, Nana Akufo-Addo to order before making the same request of the President.
A statement issued earlier by the former Eastern Regional Minister, Ambassador Smith apologised immensely to the Okyehene who says the group's comments were injurious to his person.
"I wish therefore to use this platform to set the records straight and to apologize profusely on behalf of the Party in the Region to the Regional House of Chiefs, and Okyehene in particular, who was cited in person in the altercations on the airwaves in rather disparaging language", Mr. Smith wrote.