Political heads are to blame for Ghana's crippling utilities - Prof Addae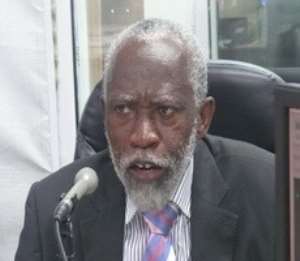 Prof. Stephen Addae
The former Rector of the Ghana Institute of Management and Public Administration (GIMPA), Professor Stephen Addae is against calls on the president to sack top managers handling the country's utility services.
He attributed the problem to interference by political heads which makes it difficult for the smooth operation of the utilities.
Professor Addae was commenting on the concerns raised by elder statesman and retired diplomat K.B Asante about the water and power crisis in the country.
K.B Asante has challenged President John Mahama to sack the heads of the various utility services in the country if they fail to provide Ghanaians with the basic utilities and to end the unwarranted hardships on Ghanaians.
Speaking on Asempa FM's Ekosii Sen programme Tuesday, Prof. Addae said the managers cannot be held entirely responsible for the failures of the political heads.
According to him, the technocrats and experts at the various ministries and departments responsible for the management of utilities have no choice than to succumb to the whims and caprices of the political heads in order to save their jobs.
The former GIMPA Rector indicated that there is no direction in the country in terms of policy because corruption and nepotism have become the order of the day.
He said the top managers if sacked "will be sacrificial lambs" for the inefficiencies of those political heads both past and present who have crippled the country's utility services.
Prof Addae added that leadership crisis has saddled the country over the years therefore sacking them will not be the panacea to the current water rationing and load shedding exercise the country is experiencing.
He said it is about time the technocrats ensure the right things are done or boldly resign to send a signal to the politicians that they cannot be used as stooges.
The former GIMPA boss said the onus lies on the Mahama-led administration to quit the propaganda, be truthful to Ghanaians and find a lasting solution to the problem.
Prof. Addae also urged government to cut down on the extravagant lifestyle and identify with the ordinary people who voted them to power.