Drivers and passengers express worry over increase in fares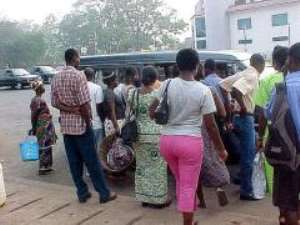 Passengers
Cape Coast, Feb. 19, GNA-The increase in the price of fuel which was effected last Sunday has brought about mixed reactions from some drivers as well as passengers as they both struggle to come to terms with the new situation.
Fisherfolks, however, seem to be content with the price of premixed fuel which remains unchanged.
The GNA visited the Tantri lorry station in Cape Coast where Samuel Rockson, the Vice Chairman of the Ghana Private and Road Transport Union (GPRTU) at Tantri No. 2, said passengers were complaining bitterly about the fares with some saying it was'unreasonable'.
He said some passengers went to the extent of insulting the drivers when the new fares were mentioned, while others returned home after being informed about the new fares, adding that the situation had affected patronage.
He further stated that the drivers were demanding for higher fares as the increase in fuel prices would subsequently lead to an increase in prices of lorry tyres, engine oil, and mechanical labour.
Mr. Rockson said drivers had been advised to exercise restraint when dealing with passengers and called for more public education, especially those living in remote communities and who may not be aware of the increment.
The Vice Chairman appealed to the Government to come to their aid to stabilize prices as was the case with the Metro Mass Transit to make it easier for the Union to serve passengers better.
The GNA  also spoke to some drivers and passengers at the Kingsway Taxi rank. Mr. Benjamin Brown, a driver, said the increase in transport fares had brought about a lot of confrontation between drivers and passengers, especially workers and traders.
Mr. Brown said the taxis were supposed to charge per kilometer which they had not adhered to and as such the increase in prices was seriously going to affect business.
He said previously the fare from Kingsway to Elmina was GH¢ 1.10 pesewas but it had been increased to GH¢1.50 pesewas, whilst Kingsway to UCC Science which was 75p is now 90p, but that the students were co-operating.
Mr. Francis Aidoo, a driver at the Elmina station said he was buying gas worth ¢GHc40.00 every morning but had to increase it to GHc65.00 and added that the fare from Kingsway to UCC Old Site had shot up to 80P from 70p  and from Kingsway to UCC New Site rising from GHc7.50P previously to 90p now presently.
Mr. Aidoo said despite the increase in prices, there was shortage of gas in town and that he had to travel all the way to Mankesim but he still did not get some.
Mr. Kwasi Afful, a taxi driver at the Mfantsipim junction said, he formerly  bought petrol at ¢GH7.30p but now buys it at ¢GH9.20p and this was affecting his sales.  He appealed to the Government to laiase with the GPRTU to come out with new fares before announcing increases in petrol and gas to avoid confrontation with passengers .
 
 
GNA