Voltic shows 'Valentine love' to Meyah Preparatory School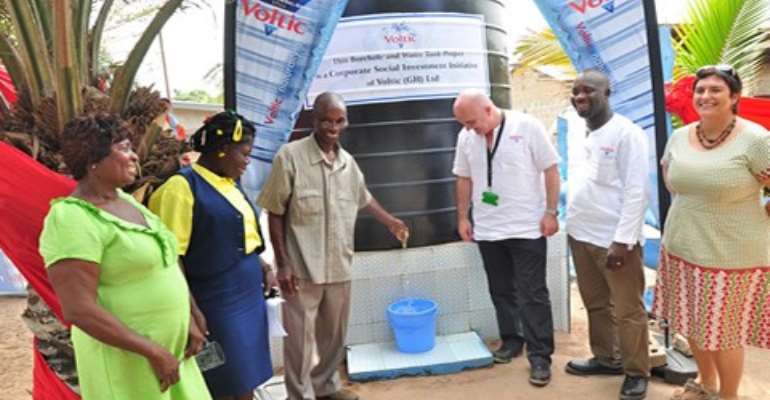 Ghana's leading mineral water producer, Voltic (GH) Ltd has, commissioned a mechanized borehole for the Meyah Preparatory School at Medie in the Ga West Municipality of Greater Accra region.
The project which cost GHS 20, 000 commenced in December 2012 and is in fulfilment of the company's aim to support the provision of social amenities within areas of its operation.
Voltic has a manufacturing plant at Medie, where it has been a good corporate citizen over the years. The company commissioned this facility to express love to the community.
The Meyah Preparatory School was established in 2004 after the retirement of Principal Moses Emerson from the army in 2000 and his subsequent relocation to Medie where he identified the need to provide educational support to a growing number of children of settler famers.
Until the construction of the borehole and its additional provision of a storage water tank, the Meyah Preparatory School with a fast growing population of about 150 pupils relied on a well for water to drink and use in keeping proper sanitary conditions at its place of convenience.
According to Voltic's Plant Manager, Phillip Wellington, "Our decision to support the school was based on a needs assessment. The school has several needs but for now we have supplied them with a cleaner and better option of sourcing and storing of water. As the saying goes, water is life, so parents are rest assured that their children will be drinking safe water."
Mr Wellington added that, "Voltic is passionate about supporting primary education and promoting good health. Supporting the Meyah Preparatory School with a borehole enables us to further indulge in those two passions."
Commenting at the event, Gregory Metcalf, MD of Voltic (GH) Limited said, "We at Voltic (GH) will continue to partner communities and organisations such as the Meyah Preparatory School to provide the necessary support in the form of infrastructure such as what we are here to commission today."
The Proprietor of the school, Moses Emerson Agbodra expressed his sincere gratitude to Voltic (GH) for their kind gesture. He said, "Children of Meyah, count yourselves blessed, I believe very soon all your other needs would be taken care of. Love has brought us all here to commission this wonderful borehole and we are very grateful to Voltic (GH)."
He also used the occasion to request for more support for the school and asked other organisations to emulate what Voltic (GH) Limited has done.