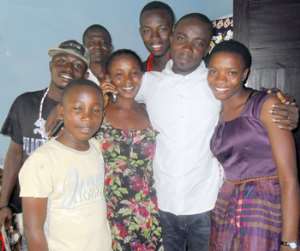 Samuel Adewale Adaranijo (2nd right) finds family as last
A BOY left in Nigeria by his mother when he was barely five years old, has found his way back home, re-uniting with his family amid tears of joy, courtesy DAILY GUIDE.
Samuel Adewale Adaranijo, a movie producer and scriptwriter, got separated from his mother, Comfort Ataa, a native of Dida near Atwima Yabi in the Ashanti Region, after she left the boy's father's apartment unceremoniously following a misunderstanding some 25 years ago.
She was in an intimate relationship with Suraju Adaranijo, which resulted in the birth of Samuel who is now 29.
The young man could not trace the whereabouts of his mother and younger sister, as his step-mother, whom he lived with, made life unbearable for him.
He reunited with members of his family in Ghana last Saturday amid tears of joy and sorrow because his mother, whom he wanted to meet, was dead.
'I'm happy to see my family back in Ghana after being in darkness for the past 24 years. But there is sadness in my spirit because my mother is no more,' he tearfully said.
Sammy narrated that immediately after his mother's departure, the father left him under the care of his step-mother who allegedly maltreated him.
He said he left home and took to carrying blocks at a construction site to fend for himself and cater for his secondary education.
According to him, he came to appreciate the importance of a mother during those trying times, and this informed his decision to trace her to Ghana.
Abena Nyarko Tawiah and Kwabena Oduro, aunty and uncle of Samuel Adewale, gave the movie producer and his friend Emmanuel a rousing welcome.
They expressed mixed feelings in an interview with DAILY GUIDE, saying they were happy to see Samuel but sad because his mother was no more.
Samuel's presence invoked memories of the deceased Comfort Ataa, 42-year-old Abena Nyarko Tawia, sister to Samuel's mother, noted.
According to her, she could not break the news of her sister's death to Samuel Adewale Adaranijo because tradition forbade her since that was the preserve of the clan head.
From Ernest Kofi Adu, Kumasi