Tunisia president's party says to stay in govt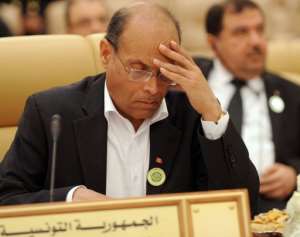 Moncef Marzouki attends the third Arab Economic, Social and Development Summit in Riyadh on January 22, 2013. By Fayez Nureldine (AFP/File)
TUNIS (AFP) - Tunisian President Moncef Marzouki's secular party said on Monday that it would stay in the coalition government, pending the resignation of key ministers from the ruling Islamist party.
"We have decided to freeze our decision to withdraw our ministers from the government, but if in one week we don't see any changes, we will quit the government," said the party chief of the Congress for the Republic, Mohamed Abbou.
He stressed that the CPR opposed the formation of a government of technocrats announced by Prime Minister Hamadi Jebali, whose Islamist Ennahda party has already opposed the plan.